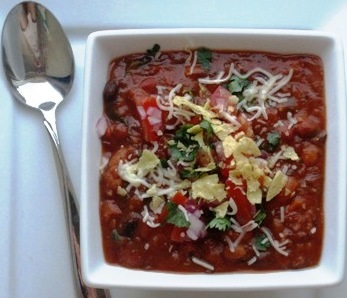 My husband became a vegetarian over a year ago, so you could imagine what a change it was for me as well, as the cook in the family. I feel really proud of him because he appreciates good food and he very much enjoyed eating all types of meat dishes from a great hamburger, to a juicy steak, to a gourmet fish dish, but now, he won't eat anything with a face 🙂 So, I am always looking for good vegetarian recipes for him and the other day I made this chili and he loved it!
Ingredients
(4 Servings)
2 cans (15 oz) red beans, drained and rinsed
2 cans (15 oz) black beans, drained and rinsed
1 can (15 oz) pinto beans, drained and rinsed
½ tablespoon chipotle pepper in adobo
3 tablespoons olive oil
½ cup chopped onion
½ cup chopped red bell pepper
2 garlic cloves, minced
1 tablespoon ground cumin
1 tablespoon chili powder
½ teaspoon ground oregano
1 cup grated carrots
2 cups water
3 cups tomato purée
½ tablespoon brown sugar
Salt and pepper
½ cup chopped fresh cilantro
Directions
Put one can of the black beans in a food processor with the chipotle and adobo. Process until smooth and set aside.
Heat the oil in a medium pot over medium-high heat. Add the onion and cook for about 3 minutes. Then add the red bell pepper, garlic and carrots and cook for about 3 more minutes.
Reduce the heat to medium. Add the cumin, chili powder and oregano and cook for 30 seconds. Add all the beans, brown sugar and the tomato purée. Cook for 5 minutes.
Add the salt, pepper and water. Cook for 15 minutes more, stirring occasionally. Add the fresh cilantro and serve.
This was printed from MyColombianRecipes.com