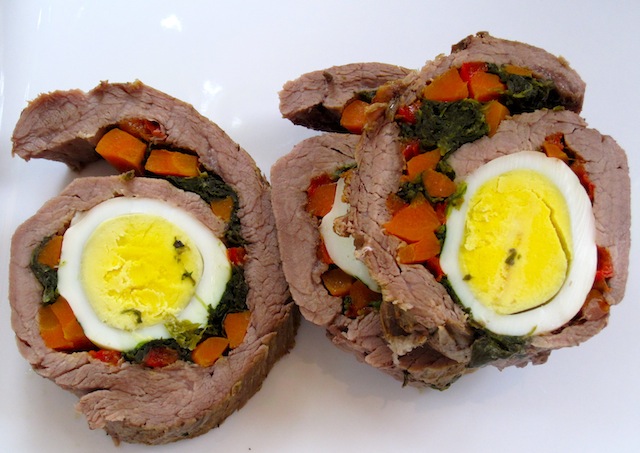 Matambre is a popular dish in Argentina. It is beef stuffed with cooked eggs, spinach and other vegetables. Some of the cuts of meats used in Argentina and South America are different than the cuts in the United States. The kind of meat used for this dish is similar to flank steak and is cooked in the oven or on the stove for about 1 hour and often served with chimichurri. It can be eaten cold or hot. When it is eaten cold, it is perfect for a picnic.
This week on the virtual culinary tour hosted by my friend Joan from Foodalogue, we are going to Argentina, so Matambre is the dish I am making to join her on this tour.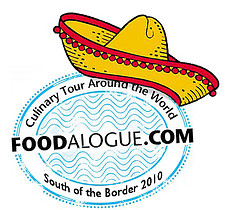 Ingredients
(4-6 Servings)
1 1/2 pounds flank steak
2 tablespoons olive oil, plus more for browning the meat.
2 garlic cloves, finely chopped
1 tablsepoon vinegar
1 tablespoon lime juice
Salt and pepper
Filling
1 large carrot, peeled and cut into thin strips
1/2 red pepper, cut into thin strips
1 cup fresh spinach leaves
3 cooked eggs

To cook the beef

2 cups beef stock
1 bay leaf
1 tablespoon fresh thyme
1 garlic clove
1/2 onion, diced
Directions
Butterfly the steak and open it like a book, then pound the meat.
Place the meat in a plastic container and add the olive oil, garlic cloves, lime juice,vinegar, salt and pepper. Cover the meat and marinate for at least 3 hours or overnight.
Lay the flank steak on a work surface, top with spinach leaves, place the red pepper strips, the carrots and cooked eggs in the center of the meat.
Star rolling the meat mixture to enclose the eggs and vegetables completely. Tie with kitchen string to hold the roll together.
In a sauce pan, heat the olive oil and add the rolled flank steak and brown on all sides.
Transfer to a baking dish, then add the beef stock, thyme, garlic, onion and bay leaf and bake at 350F for about 1 hour and 15 minutes or until the meat is cooked. Let the meat rest for 15 to 20 minutes before removing the string. Remove the strings and cut into slices, serve it hot or cold.
This was printed from MyColombianRecipes.com