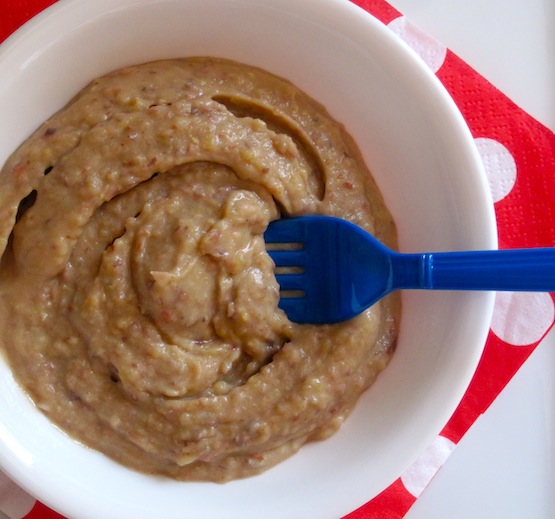 This Bean and Ripe Plantain Puree is a traditional Colombian side dish. I know it doesn't look good in the picture, but it is delicious and easy to make and goes perfectly with grilled beef, pork or chicken. This time I used canned beans to keep it simple, but my grandmother always made the beans from scratch.
Buen provecho!
Ingredients
(About 4 servings)
4 very ripe plantains, peeled and cut into pieces
1 cup vegetable or chicken stock
1 tablespoon olive oil
2 tablespoons butter
1/2 cup diced white onion
3 garlic cloves, minced
2 tomatoes, diced
1/2 cup of coconut milk
1/2 teaspoon ground cumin
Salt and pepper
2 cup cooked red beans
1/4 cup fresh cilantro
3 tablespoons brown sugar
Directions
In a large saucepan over medium heat, combine the plantains and stock or broth.
Cook for 15 minutes, or until the plantains are very tender. Drain in a strainer, reserving the cooking liquid. Set aside.
Heat the oil and butter in the saucepan. Add the onions, garlic, tomatoes and cook for 3 minutes, or until onions are tender.
Place the plantains and beans in a food processor. Add the reserved stock, coconut milk, brown sugar, cilantro, cumin, and tomato mixture. Puree and season with salt and pepper. Place in a pot a cook stirring often for 5 minutes.
Transfer to a serving bowl.
This was printed from MyColombianRecipes.com