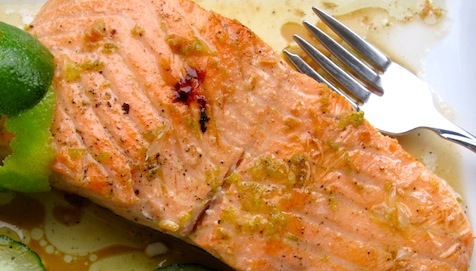 This is a simple and easy salmon recipe, and a very flavorful dish. The flavors of the lime, sherry vinegar, and garlic blended beautifully. Hope you enjoy this as much as I did.
Don't forget to visit my post about the new Samsung refrigerator and enter to win a $100 Best Buy gift card.
Ingredients
(4 servings)
1/4 cup olive oil
3 garlic cloves, minced
Juice of 3 limes
4 salmon fillets
Salt and pepper
Splash of Sherry vinegar
Directions
Sprinkle the salmon on both sides with salt and pepper.
In a nonstick skillet or large sauté pan over medium heat, warm the olive oil. Add the garlic and cook for 30 seconds.
Place the salmon in the pan and cook until golden brown underneath, about 4 minutes. Carefully turn the salmon over and cook until the fish is opaque throughout, 4 minutes more. Add the lime juice and sherry vinegar.
Cook for 5 minutes more. Transfer the salmon to a serving platter and serve immediately.
This was printed from MyColombianRecipes.com