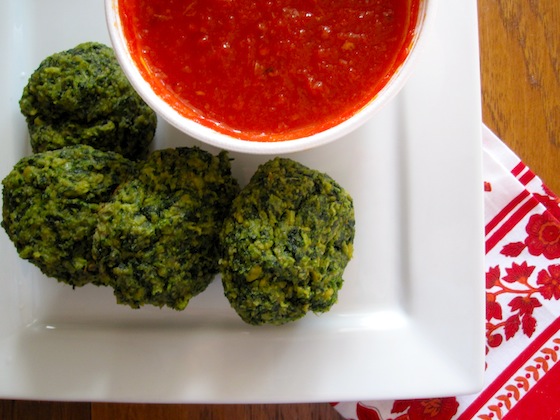 These Spinach Balls are an easy meatless home cooked dish that even veggie avoiders will enjoy. My oldest son doesn't eat spinach and he couldn't stop eating these Spinach Balls.
Buen provecho!
Ingredients:
(About 15 balls)
1 (10oz) bag frozen chopped spinach, thawed
1 can chickpeas, drained and rinsed
1/4 cup chopped onion
1/2 cup bread crumbs
3 large eggs
2 garlic cloves minced
1/4 cup melted butter
Salt and pepper to taste
1/2 cup Asiago cheese, grated
Tomato Sauce for serving
Directions
Squeeze the excess water from the spinach and put it in a food processor. Add the remaining ingredients and process until well blended.
Form the mixture into small balls. Place the balls on a greased baking sheet. Place in the refrigerator for one hour.

Preheat the oven to 350 degrees F.
Cook in oven until for about 15 to 20 minutes. Transfer to a platter and serve with tomato sauce on the side.
This was printed from MyColombianRecipes.com