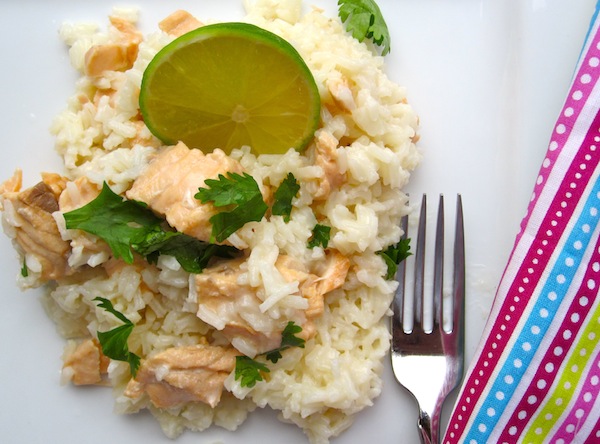 My life is crazy these days, but I'm loving every minute of it! My two boys, my husband, and the dog keep me very busy. My little boy is crawling and getting into trouble. He's at the stage where he wants his Mama all day long, especially when I'm in the kitchen.
Trying to find the time to create my recipes, take pictures, and write posts has been difficult. But here I am guys, sharing my kitchen adventures with you!
This Rice with Salmon is creamy, cheesy and delicious, so much so that my son loved it too! I hope you will enjoy it as much as we did.
Buen provecho!
Ingredients
(4 servings)
2 tablespoons butter
1 tablespoon olive oil
1/2 cup finely chopped onion
2 garlic cloves, minced
1 cup long grain rice
Salt and pepper
1/2 teaspoon ground cumin
2 cups fish stock or vegetable stock
1 pound salmon, cut into small pieces
1/4 cup heavy cream
1/2 cup mozzarella cheese
1/2 cup chopped fresh cilantro
Lime to serve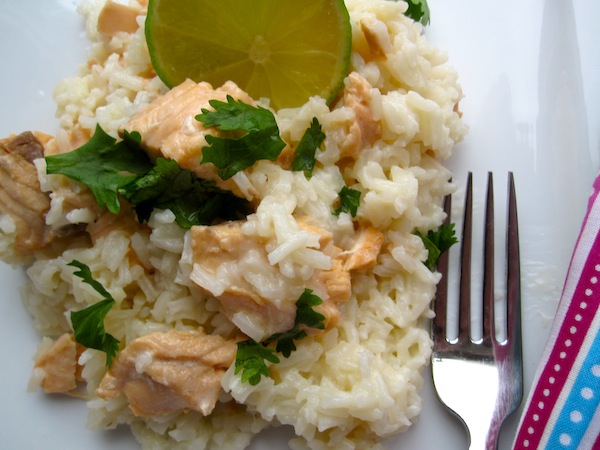 Directions
eat the butter and oil in a medium pan over medium heat. Add onion and cook, stirring, until translucent, about 5 minutes. Add garlic and cook for 1 minute more.
Add rice, stir and cook for 3 minutes. Add the stock, salt and pepper, and bring to a boil.
Reduce heat to simmer, cover and cook for 10 minutes.
Season the salmon with salt, cumin and pepper. Add the salmon pieces in the partially cooked rice.
over and cook until the salmon is opaque throughout, about 10 minutes more or until the liquid is absorbed and the rice is tender but firm.
Add the heavy cream, cheese and fresh cilantro. Mix with a fork, cover and remove from heat. Let sit for 5 minutes and serve warm with lime wedges on the side.
This was printed from MyColombianRecipes.com