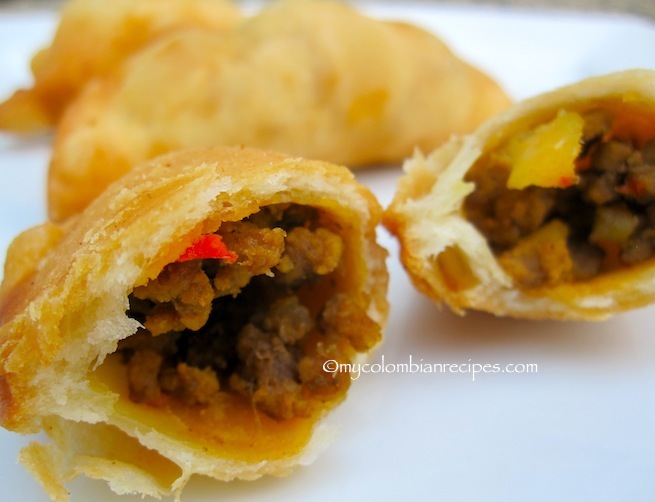 My grandmother often made these Empanaditas de Carne for us while growing up in Colombia. Back then, all I cared about was eating them, not learning how to make them. Mamita never wrote down any recipes, so unless I was there when she made a dish, and paying attention, I never learned how to make the recipe! This recipe is my mom's adaptation of my grandmother's Empanaditas de Carne.
These small beef turnovers are popular all over Colombia and are served as party appetizers and sold in school cafeterias for kid's lunches. Nowadays, you can buy them frozen at supermarkets all over Colombia. They are always a huge hit with the kids. They love the fact that they can simply pick these up with their hands and gobble them down without the unnecessary use of cutlery.
Buen provecho!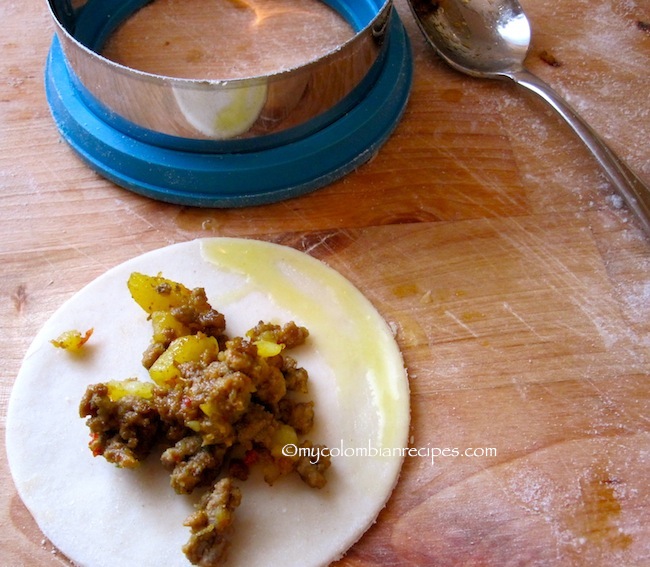 Ingredients
(About 2 dozens of empanaditas)
Dough

2 cups all purpose flour
1/2 teaspoon of salt
1/2 teaspoon of baking powder
4 tablespoons of butter
1/4 cup ice water
Filling:
2 tablespoons vegetable oil
1/2 cup white onion, shredded
1/2 bell pepper, diced
2 garlic cloves, minced
1/2 teaspoon ground achiote
1 teaspoon ground cumin
1/2 pound ground beef
1 cup diced and cooked potatoes
1/2 cup beef broth
Salt to taste
1 egg yolk
Directions
o make the filling: In a large skillet, heat the oil. Add the onions, bell pepper, garlic, achiote, cumin and cook for about 6 minutes over medium heat.
Add the beef and cooked potatoes, and cook for about 7 minutes. Add the broth, season with salt and cook until meat is cooked through.
To make the dough: Place the flour and salt in a food processor.
Add the butter, and water until a dough forms.
Form a ball, cover with plastic wrap and place in the refrigerator for about 30 minutes.

On a lightly floured surface, roll out the dough into a thin rectangle. Cut out round disc shapes with a round cutter or a small plate.

Fill empanada discs with beef mixture. Brush the edges with egg and close the filling by pressing the edges together to form a half moon.
Preheat oil in a deep pot to 375 degrees F. Fry the empanadas in the oil for about 3 minutes on each side. Remove from the oil and drain on paper towels.
This was printed from MyColombianRecipes.com