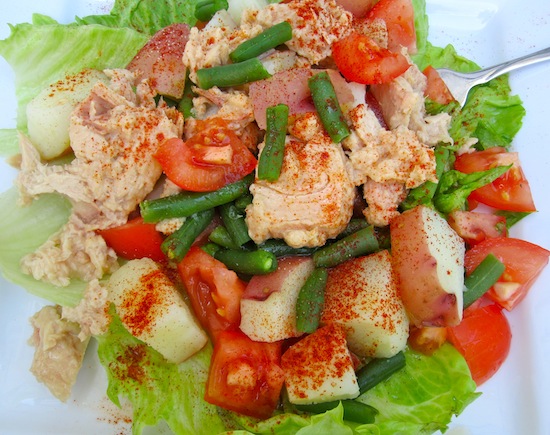 Looking for a good summer salad recipe? I love the colors and flavors in this salad! The mix of potato, tuna, green beans, onions, lettuce and tomatoes make this salad the perfect summer lunch. If you want a vegetarian version, just omit the tuna.
Buen provecho!
Ingredients
(2- 4 servings)
2 cups lettuce
1 cup cooked green beans, cut into pieces
2 cups red potaoes, cooked and diced
1 large tomato, diced
1 tuna can, drained
1 garlic clove, minced
1/4 cup chopped onion
Dressing:
Juice of 2 lemons
Zest of 1 lemon
1 tablespoon whine vinegar
2 tablespoons olive oil
Salt and pepper
1/4 teaspoon ground cumin
1/4 teaspoon paprika
Directions
To make the dressing: whisk together the olive oil, lemon juice, zest, garlic, cumin, paprika, salt and pepper until blended.
In a large bowl, toss lettuce with 1/2 of the dressing. Spoon the remaining dressing over the green beans, potatoes and tuna. Gently coat the ingredients evenly with the dressing. Arrange the lettuce on a large platter. Top with the green beans, potatoes and tuna, and sprinkle with paprika. Serve at room temperature.
This was printed from MyColombianRecipes.com