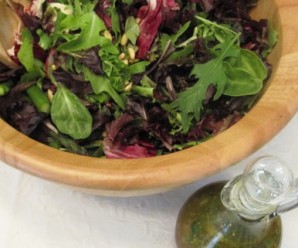 Delicious Summer Salad
Ingredients
4

cups

lightly packed arugula

4

cups

lightly packed mixed torn greens such as romaine

red or green leaf lettuce, or radicchio, washed and dried

⅓

cup

toasted pine nuts

½

pound

fresh asparagus

trimmed and cut into 2 inches pieces

2

cups

chopped fresh tomatoes

6

radishes

thinly sliced

½

tablespoon

whole grain Dijon mustard

¼

cup

balsamic vinegar

2

tablespoons

lemon juice

2

tablespoons

chopped fresh parsley

⅓

cup

olive oil

Salt and Pepper
Instructions
Fill a medium pot with water and bring it to a boil. Place the asparagus and blanch 1 minute. Rinsed with cold water and set aside.

In a large bowl combine the arugula, mixed greens, tomatoes, radishes, pine nuts and asparagus.

In a small bowl, whisk together the mustard, vinegar, lemon juice, salt and pepper. Slowly drizzle the olive oil whisking constantly, add the fresh parsley, adjust the seasoning to taste and serve.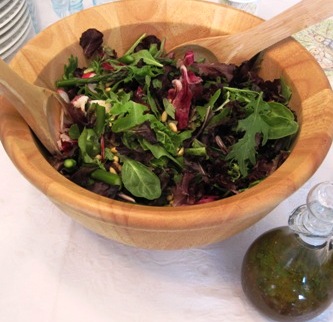 Oops! I meant to post this salad recipe almost 2 months ago when I made seafood and chicken paella for dinner for my sister-in-law and her family when they came to visit from Virginia. I wanted to make a fresh, simple, but delicious salad to go with the paella and I think this recipe was the right choice, at least the empty bowl in the kitchen made me think so 🙂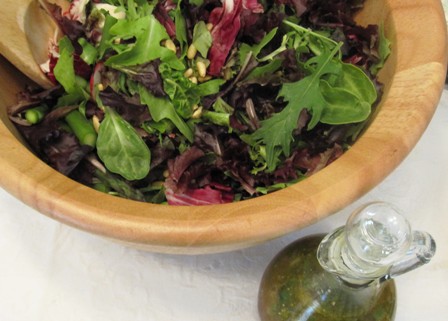 It is truly a fantastic salad, try it!