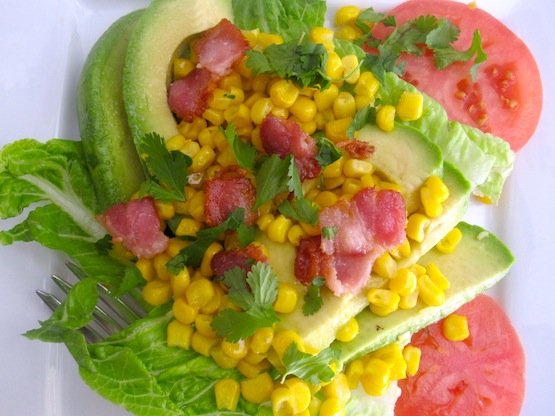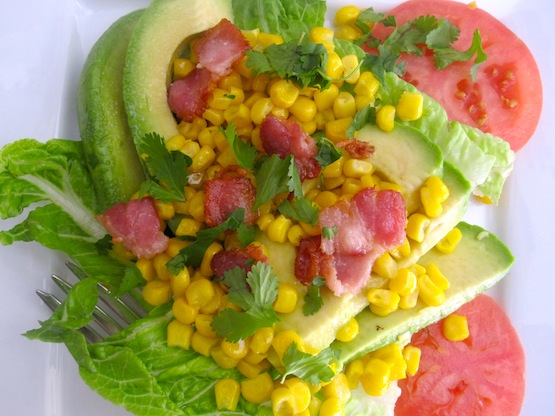 If you're looking for a fresh salad perfect for summer, you have to try this corn and avocado salad. It is summer on a plate, and the best part is that it's easy to throw together.
Make it this weekend for a 4th of July party or a light lunch during the week. I made the dressing with lime juice and white vinegar, but you can add your favorite dressing.
Buen provecho!
Ingredients
(2-4 servings)
Salad

2 avocados, peeled and sliced
2 large tomatoes, sliced
2 cups of cooked fresh corn
4 bacon slices, cooked and cut into small pieces
3 heads romaine lettuce, leaves separated
1/4 cup fresh cilantro

Lime-Vinaigrette

1/4 cup fresh lime juice
3 tablespoons white vinegar
1 tablespoon olive oil
Salt and pepper
Directions
Make the vinaigrette:
Put the lime juice and vinegar in a small bowl. Gradually whisk in the olive oil, season the vinaigrette with salt and pepper. Set aside.
Cut each romaine heart lengthwise into quarters. Place on a platter or on individual plates.
Top the lettuces with the tomato slices, avocado and corn and drizzle with the dressing.
Sprinkle bacon and cilantro over the salad and serve.
This was printed from MyColombianRecipes.com