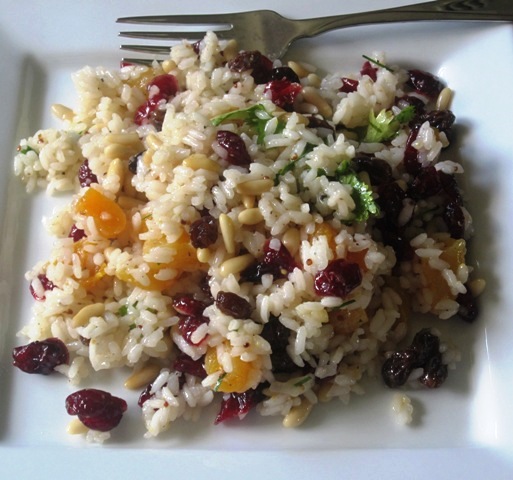 I love rice and I am one of those Colombians who are happy eating plain white rice with a fried egg on top and sweet plantains on the side. Maybe that doesn't sound very appealing to most, but it doesn't take much to make me happy, as long as I am eating Colombian style 🙂
This rice salad is the perfect accompaniment for grilled meats and could also be served as a vegetarian meal.
Ingredients
1 cup cooked white rice
¼ dried apricots
½ cup toasted pine nuts
¼ cup dried cranberries
¼ cup raisins
1 scallion, finely chopped
1/4 cup chopped fresh cilantro
3 tablespoons olive oil
Juice of 1 lime
½ tablespoon honey
1 teaspoon whole grain mustard
Salt and black pepper
Directions
Whisk together olive oil, lime juice, honey and mustard in a medium bowl. Add the cooked rice, apricots, pine nuts, cranberries, cilantro, raisins and scallions, and toss to coat. Season with salt and pepper and serve.
This was printed from MyColombianRecipes.com