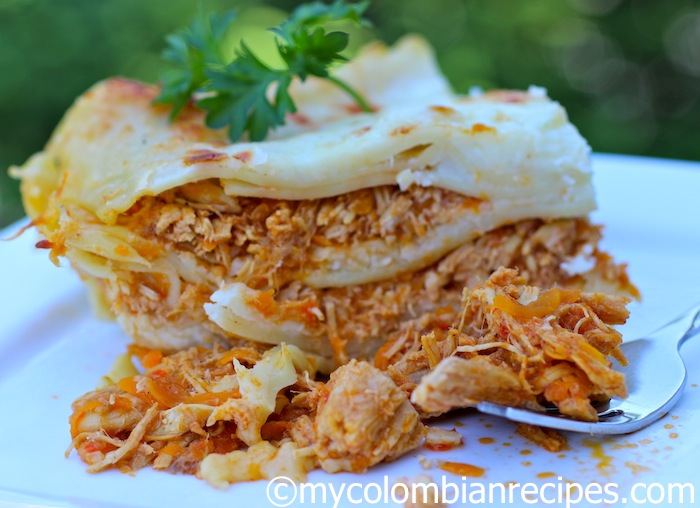 I am so excited to share this recipe that I love so much with you today! This Lasagna de Pollo y Cerdo is flavorful, cheesy and pure comfort food. This is my aunt's Consuelo lasagna recipe and one of my favorite dishes!
This Chicken and Pork Lasagna is so much more than just another lasagna recipe. It has a wonderful combination of flavors and textures. Every time I make this dish for friends or family everybody loves it and asks me for the recipe.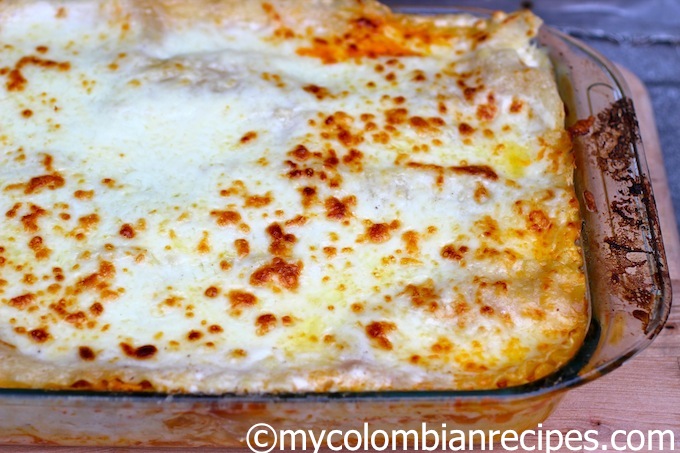 I consider lasagna to be the perfect autumn or winter weekend meal. I love fussing over the filling and working around the house or on my site while everything cooks. The house gradually fills with wonderful aromas until I can hardly wait another second to dive in.
This is a recipe that tastes even better after a day or two in the fridge, making it a great make-ahead dinner party option. When I make this lasagna I double the recipe and I keep one in the freezer to enjoy a couple of weeks later.
Buen provecho!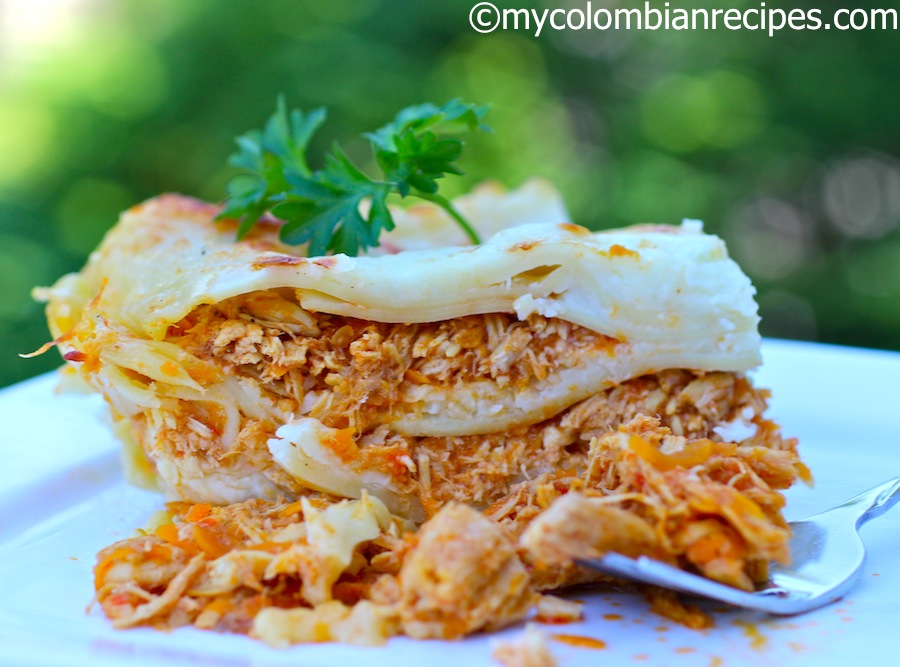 Ingredients
1 lb. dried lasagna noodles
4 bone-in chicken breast
1 pound pork loin
1 cup Colombian aliños sauce (recipe here)
3 tablespoons butter
2 tablespoons olive oil
1 large yellow onion, finely chopped
2 cups grated carrots
1 red bell pepper, finely chopped
5 cloves garlic, minced
3 cups chicken broth
1/2 teaspoon ground cumin
1/2 cup ketchup
1 can (6 Ounce) tomato paste
Salt and pepper, to taste
3 cups milk
4 Tbs. unsalted butter
1/4 cup all-purpose flour
Freshly grated nutmeg, to taste
2 lbs. whole-milk mozzarella cheese, shredded
1 cup grated Parmesan cheese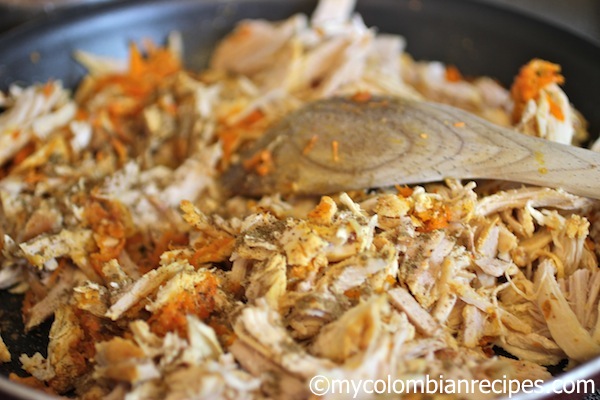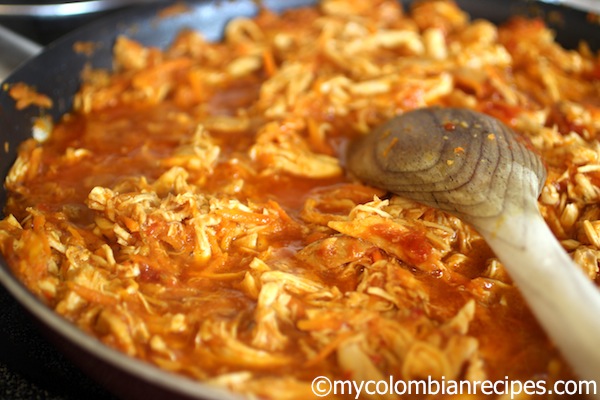 Directions
o cook the chicken and pork: Place the chicken and pork in a large pot add the water, salt and aliños sauce, cover it and let it simmer gently over medium heat for about 12 minutes. Remove the chicken from the pot and set aside. Keep cooking the pork for 10 minutes more. Remove the pork from the heat and let it cool before shredding.
Bring a large pot full of salted water to a boil over high heat. Add the noodles and cook until al dente, 8 to 12 minutes. Drain, immerse in cold water to cool and drain again. Lay the noodles on a towel and cover.
Heat the oil and butter in a large skillet over medium heat. Add grated carrots, bell pepper and onions, and cook for about seven minutes. Add cumin, ketchup, tomato paste and let it heat. Add garlic and stir to combine. Add chicken broth, shredded pork and shredded chicken. Stir and let simmer over low heat for a bout 25 minutes.
Meanwhile, in a saucepan over medium heat, bring the milk to just below a boil. In another saucepan over medium-high heat, melt the butter. Stir the flour into the butter and cook, stirring, for 2 minutes. Remove from the heat and gradually whisk in the hot milk. Set over medium-low heat and cook, stirring, until thick and smooth, 3 to 4 minutes. Season with salt, pepper and nutmeg. Remove the sauce from the heat.
Position a rack in the upper third of an oven and preheat to 375°F. Grease a 9-by-13-inch baking dish with olive oil.
Cover the bottom of the baking dish with a layer of the noodles. Spoon one-third of the white sauce over the noodles. Top with one-third of the pork-chicken mixture and then with one-third of the mozzarella cheese.
Repeat the layering twice. Sprinkle the parmesan evenly over the top. Bake until golden and bubbling, 40 to 50 minutes. Let stand for 15 minutes, then cut into squares and serve. Remove the sauce from the heat.
This was printed from MyColombianRecipes.com