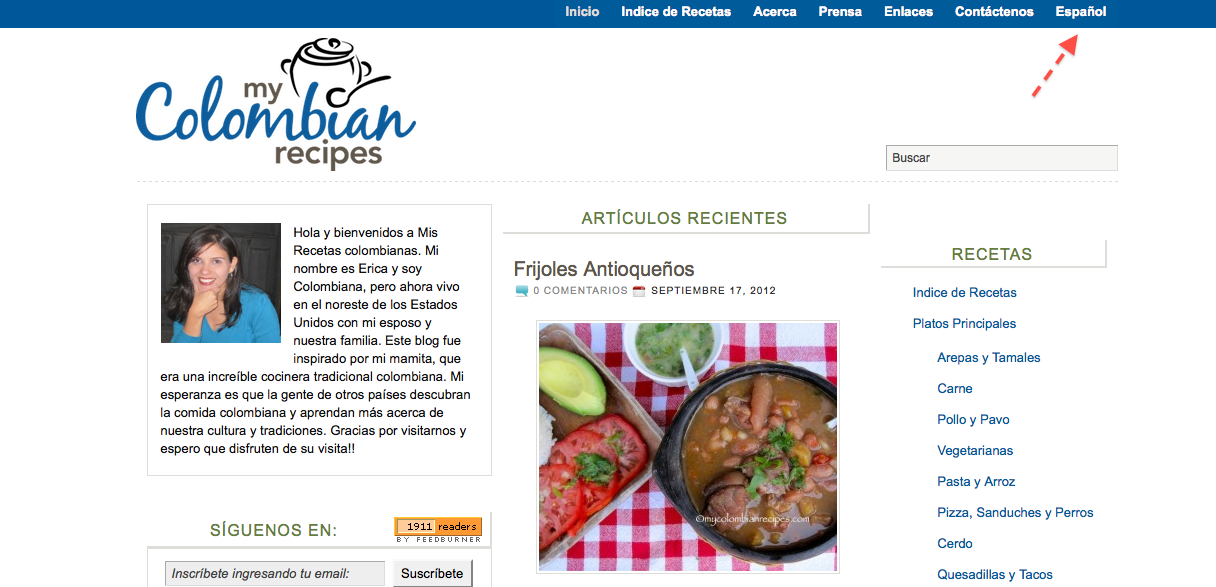 It's finally here, My Colombian Recipes now has a Spanish language site. We have been secretly working on this for months and I am very excited and proud to be able to offer my recipes in Spanish, as well as English.
I created this blog containing Colombian recipes written in English in February del 2009, hoping that people from other countries would discover Colombian food and learn more about our culture and traditions. That decision was life changing and one of the best ones that I ever made.

I found a whole new group of incredible bloggers who have since become my friends and supporters of my work. I found a wonderful community of Colombian food lovers that I didn't even know existed.
I have received countless emails and comments over the past five years asking me why this blog was created in English and not in Spanish, so here is the answer:
In 2009 I couldn't find one website that focussed primarily on Colombian food that was written in English. This site was the first to focus on Colombian recipes, written in English, to my knowledge. It was very important to me to teach people around the world about our hidden and delicious cuisine. After five years of blogging, about 900 recipes written in English and many requests from my Spanish speaking readers, finally, My Colombian Recipes is now available in Spanish! At the time of writing this post, we only have 39 recipes translated into Spanish, but I hope to add more every day. Please be patient, I am translating all the posts myself as the translations done through automated tools are not accurate.
So, if you have any friends or family members who speak Spanish, either here in the US or around world, please send them this link to My Colombian Recipes in Spanish or you could also tell them to go to misrecetascolombianas.com, which is the Spanish translation of mycolombianrecipes.com. We bought that domain to make it easier for those who only speak Spanish to remember 🙂 Please share our new Spanish site via social media as well.
Thanks for your support and remember to follow me on Facebook, Twitter , Google+, Instagram and Pinterest.
Erica