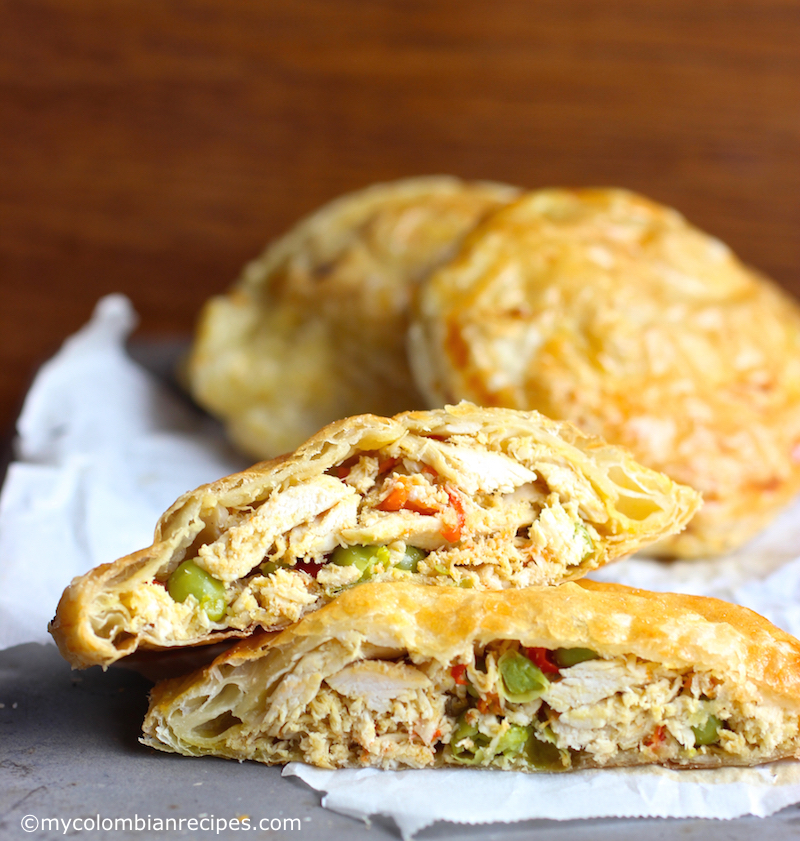 Pasteles (Colombian-Style Pastries) are a popular snack in Colombian bakeries, school cafeterias and coffee houses. We have different variations of both sweet and salty pasteles.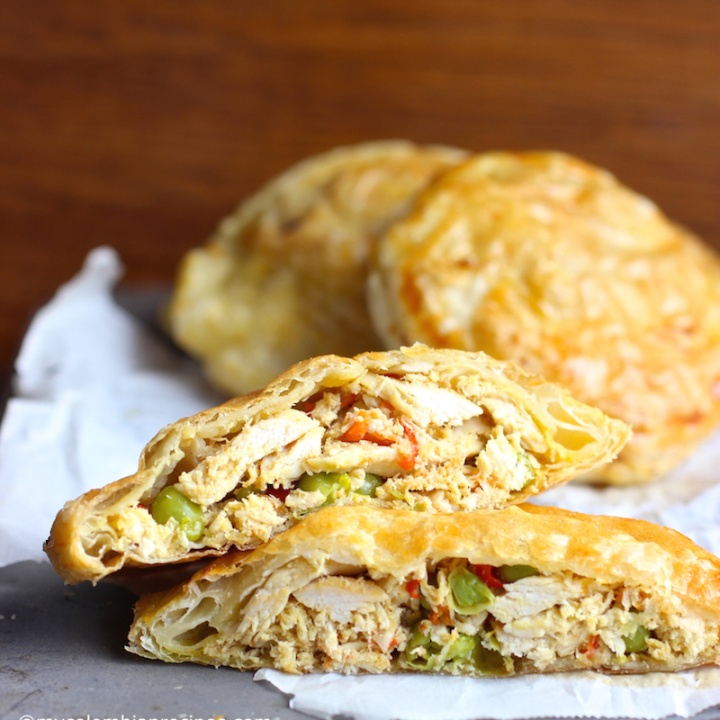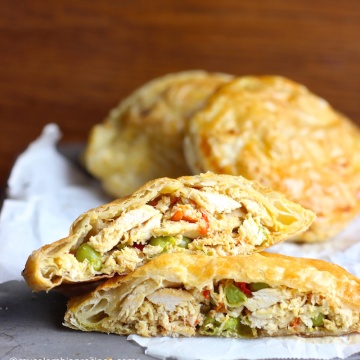 Pasteles de Pollo con Verduras (Colombian-Style Chicken Pastries)
Ingredients
1

package frozen puff pastry sheets

thawed

2

tablespoons

butter

½

cup

of onion

finely chopped

½

cup

of red bell pepper

finely chopped

3

garlic cloves

crushed

1

large carrot

peeled and shredded

½

teaspoon

ground cumin

2

chicken breast

cooked and shredded

½

cup

of peas

¼

chicken broth

Salt and pepper to taste

1

egg

beaten with 1 tablespoon of water
Instructions
Melt the butter in a sauce pan.

Add the onions, carrots, bell pepper, garlic, and cumin. Cook for 7 minutes over medium low heat, stirring occasionally.

Add the shredded chicken, salt and pepper and stir well. Add the broth and peas; continue cooking over low heat for another 5 minutes.Let the chicken filling cool down.

Preheat an oven to 400°F. Flour a clean, dry counter top or other flat working surface. Lay out the puff pasty on the floured surface. Flour the top of the dough. Roll out the puff pastry until it is half as thick (about ⅛-inch).

Using a large cookie cutter, cut into 24 circles and brush the edges of each circle with the egg. A little off center of 12 circles, place about 2 tablespoons of the filling. Place another circle on top to enclose the filling.

rimp the edges with a fork or your fingers. Repeat with the remaining pasteles, placing them on a parchment paper-lined baking sheet as you go. Bake for 20 minutes or until golden brown and puffy.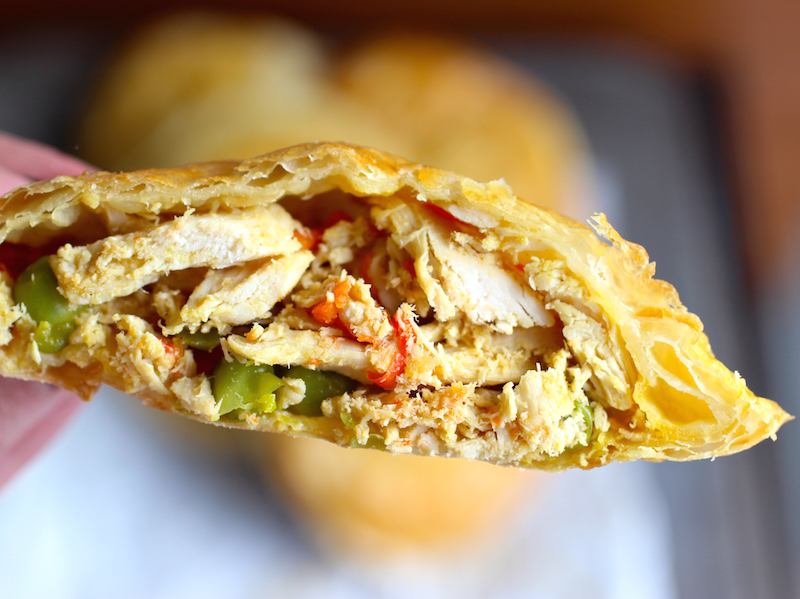 These Pasteles de Pollo are made with puff pastry and stuffed with shredded chicken breast, spices and vegetables, and served with ají or avocado sauce. They can be eaten for breakfast, lunch, or as an afternoon snack and they are also served at parties as an appetizer in a bite-sized version.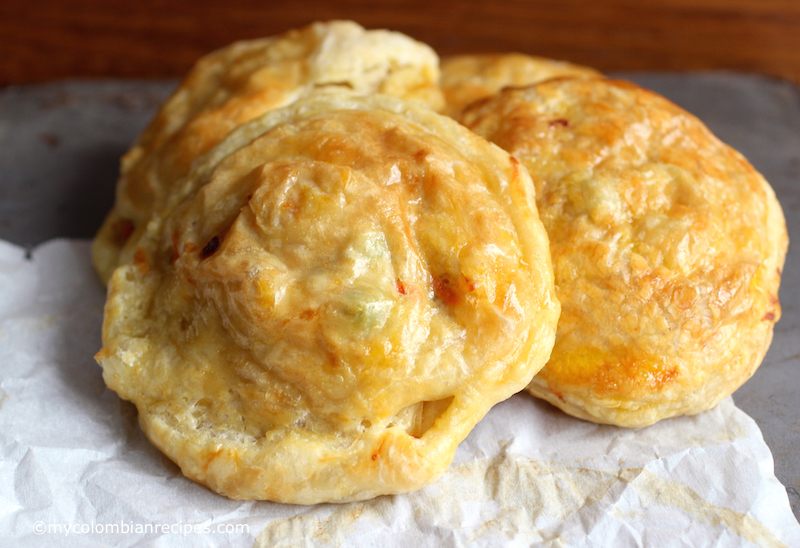 A fresh Pastel de Pollo paired with a steaming cup of coffee or hot chocolate is the perfect algo o merienda to me. A couple of weeks ago I was chatting with one of my friends in Colombia and she was eating a pastel de pollo while we were talking. I started craving this delicious pastry and told her about how much I miss them, so she suggested that it would be easy for me to recreate at home. I realized she was right, so I did just that! I customized them with my own personal touches, of course, and they reminded me of the ones I ate at my favorite bakery in Colombia. With the help of some frozen puff pastry sheets, these were very easy to make.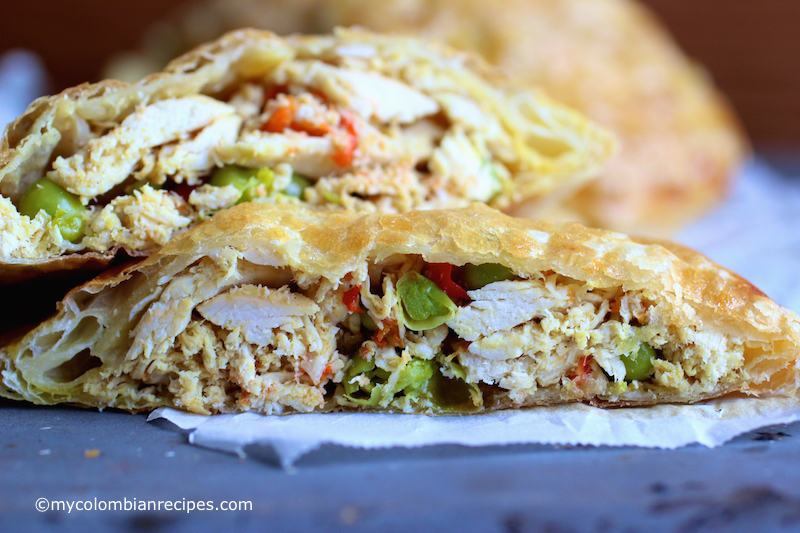 These pasteles can also be made with leftover chicken, a great recipe for those times when you have leftover roasted chicken in the house. They can also be made with turkey.
Buen provecho!