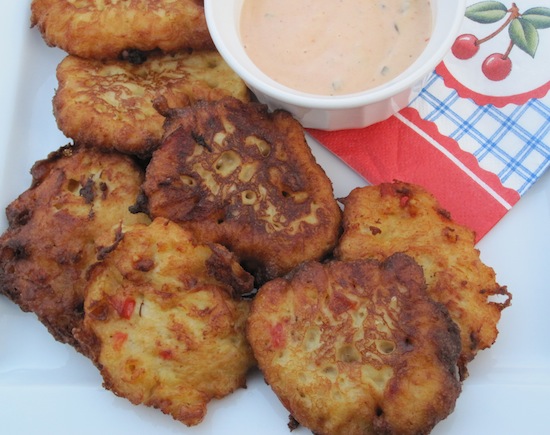 My grandmother used to make Torticas for the family using different ingredients like broccoli, cauliflower, green beans and corn and we loved them. These Torticas de Atún or Tuna Fritters are also one of Mamita's dishes. They are delicious and a kid friendly way to use a can of tuna.
Buen provecho!
Ingredients
(4 servings)
Olive oil
1/2 cup grated onions
1/2 cup finely chopped red bell pepper
2 tuna cans
3/4 cup of milk
1 beaten egg
1/2 teaspoon ground cumin
1/2 teaspoon garlic powder
1/2 teaspoon paprika
5 tablespoons all purpose flour
Salt and pepper
2 Tbs. chopped fresh flat-leaf parsley
Vegetable oil for frying
Directions
In a fry pan over medium heat, warm the olive oil. Add the onions, red bell pepper and cook, stirring occasionally, until browned, about 5 minutes. Set aside.
n a bowl, combine the flour, the tuna, milk, egg, cumin, garlic powder and paprika. Stir until well mixed.
Stir in the cooked onions, red bell pepper and parsley. The batter should be thick. Season with salt and pepper.
In a skillet heat the oil. Line a baking sheet with paper towels and set aside. Working in batches, drop the batter into the skillet, using an ice cream scooper, one scoop for each fritter. Cook, turning the fritters once, until golden brown and crisp, 3 to 4 minutes per side.
ransfer the fritters to the paper towel-lined baking sheet to drain. Repeat with the remaining batter. Serve the fritters immediately.
This was printed from MyColombianRecipes.com