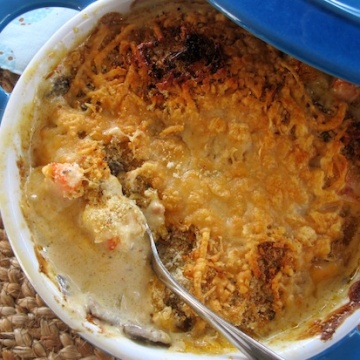 Cazuela de Camarones con Champiñones (Shrimp and Mushroom Casserole)
Ingredients
3

tablespoons

butter

2

tablespoons

olive oil

⅓

cup

chopped onion

1

garlic clove

chopped

4

oz

portobello mushrooms

diced

11/2

tablespoons

flour

1

cup

milk

1

cup

heavy cream

2

tablespoons

white wine

optional

Salt and pepper

½

teaspoon

ground cumin

½

teaspoon

mustard

½

teaspoon

paprika

1 ½

cups

cheddar cheese

divided

2

pounds

shrimp

peeled, deveined and cut crosswise into thirds

⅓

cup

bread crumbs

¼

cup

parmesan cheese
Instructions
Preheat oven to 375 degrees F.

Heat the oil and butter in a large skillet over medium-high heat. Add the onions and garlic to the pan. Season with salt and pepper. Cook until soft, about 2 minutes.

Add the mushrooms to the pan and season with salt and pepper. Cook until mushrooms are tender, stirring occasionally, about 5 to 7 minutes.

Sprinkle the flour into the pan, stir to combine, and cook the roux, stirring, for 2 minutes. Whisk the milk into the saucepan. Season the sauce with the salt, pepper and stir to combine.

Bring the sauce to a boil, reduce the heat to a simmer, and cook, stirring frequently with a wooden spoon, until sauce is thick and smooth and any floury taste is gone, about 5 minutes. Add the wine, heavy cream, mustard, cumin and paprika. Stir well and cook for 2 minutes more. Turn off the heat, add the shrimp and1 cup of cheddar cheese.

Gently stir until cheese is melted and shrimp is beginning to turn pink. Season with salt and white pepper, to taste.

Place the mixture into 4 individual gratin dishes. Sprinkle the remaining cheddar cheese, parmesan cheese and bread crumbs on top. Bake for 15 to 20 minutes, or until the sauce is bubbly and the caseroles are browned on the top. Serve warm.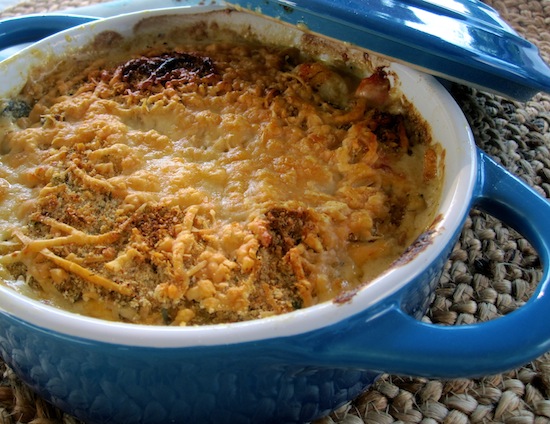 I've been thinking about making this Shrimp and Mushroom Casserole for days. My sister mentioned it to me while she was visiting a couple of months ago. She had it while she was living in Cartagena and said it was delicious.
I hadn't made it before, but the list of ingredients made my mouth water... shrimp, mushrooms, white sauce, cheese and white wine. This casserole is rich, creamy and delicious. The top is crunchy and when baked, it turns a gorgeous shade of golden brown. Serve warm with a piece of crusty bread on the side.
I suggest that you bookmark this recipe right now 😉
Buen provecho!