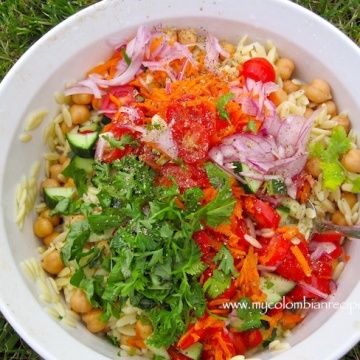 Picnic Orzo Salad
Ingredients
½

pound

orzo pasta

1

pound

grape or cherry tomatoes

sliced

2

large carrots

shredded

1

cucumber diced

1

can of garbanzo bean rinsed and drained

⅓

cup

finely chopped red onion

¼

cup

fresh cilantro

chopped

¼

cup

fresh parsley

chopped

¼

cup

fresh basil

chopped

½

pound

feta cheese

crumbled

1

avocado

diced
Dressing
Juice of 3 lemons

Juice of 1 lime

1

garlic clove

¼

cup

olive oil

Salt and pepper
Instructions
Cook the pasta in a large pot of boiling salted water according to the directions on the package.

Drain well and allow to cool. Place the pasta in a bowl and add the tomatoes, carrots, cucumber, garbanzo beans, red onion, cilantro, parsley, basil, avocado and feta.

For the dressing: combine the olive oil, garlic, lemon juice, lime juice, salt and pepper and whisk to combine. Pour the dressing over the pasta, and toss well.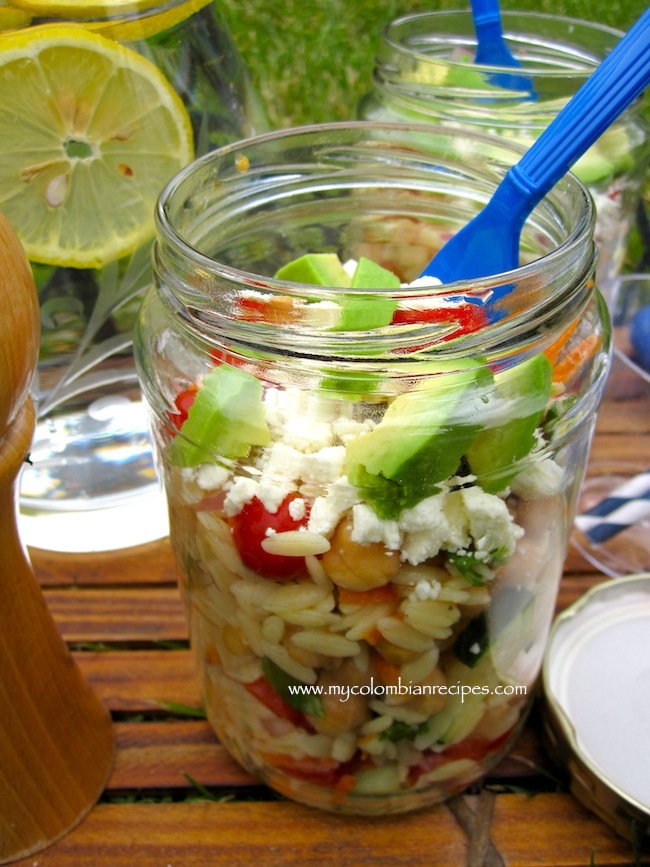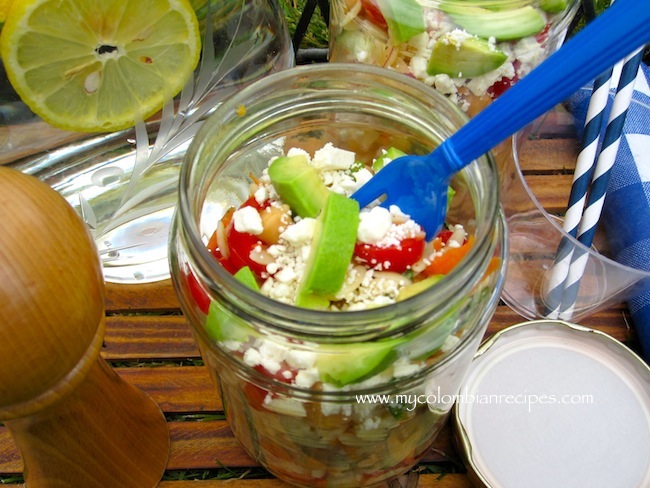 In my fantasy world, I live in a beautiful house, with a huge organic garden in my backyard, where I grow my own fruits, herbs and vegetables. In this fantasy world, I wake up in the morning greeted through the large bedroom windows by beautiful, tall tomato plants and green herbs. Then after I finish drinking my morning coffee, I go outside and choose my fresh produce for the day.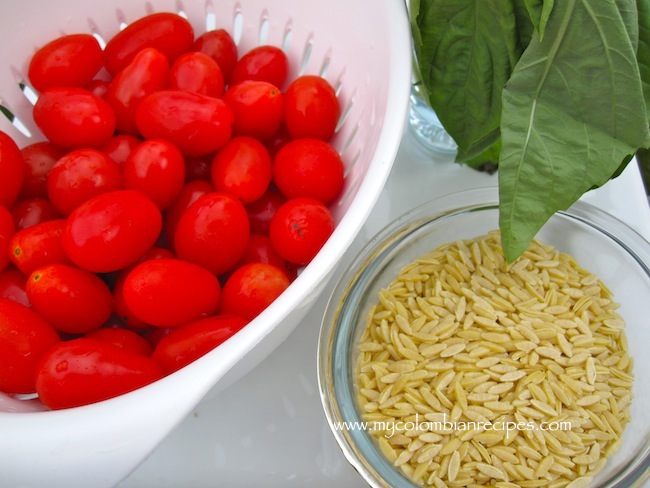 However, in my reality, no plant survives for more than a week in my hands! I am a disaster with plants. I've even killed a cactus! If you don't believe me, just ask my husband. I'm sure he'll be more than happy to tell you the story 🙂
I love cooking and feeding my family with as much fresh, local ingredients as reasonably possible, but lets be honest, fresh produce doesn't keep long. I have learned some tips through the years to extend the life of my fresh produce, such as, washing fruits and vegetables just before I am ready to use them and putting my greens in plastic bags then placing them in the coldest part of the fridge, where they last more than a week. But, when I saw these cool webisodes from Freshpedition featuring the new French Door Refrigerator from GE, I started thinking about just how convenient it would be to have one of these in my kitchen.
According to GE, this fridge has the most advanced ice and water filtration system for drinking and cooking, an auto-fill dispenser that fills 90%-95% automatically and large enough for a cooking pot, a dual evaporator system for longer food life, an electronic temperature deli pan, and LED lighting for greater visibility. Check out their website for more information about this beautiful fridge.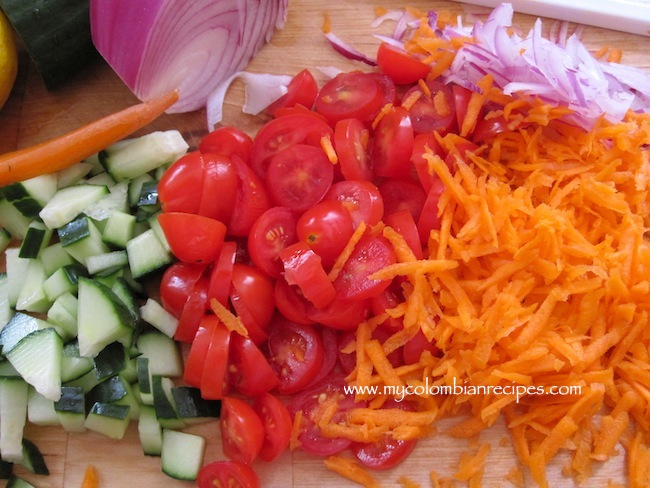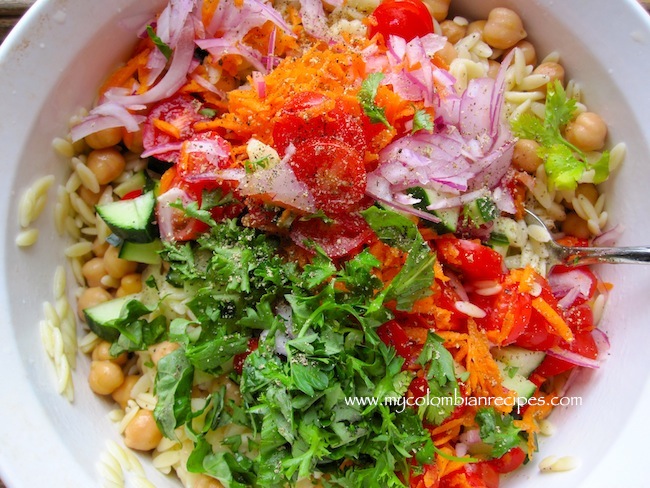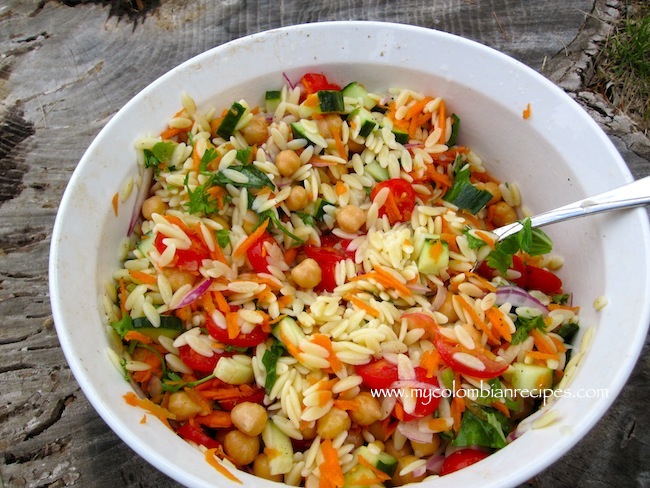 I also want to share a salad with you today that I make often, and that we all love, in which I use local and organic vegetables. This orzo salad is a true feast for the senses. Vibrant colors, wonderful textures, and bursts of incredible flavors. What I love about this dish is that it is versatile and can be made using several varieties of fresh and seasonal vegetables. Feel free to use your favorite pasta shape and be sure you make double portions of the salad, as it tastes better the next day. Buen provecho!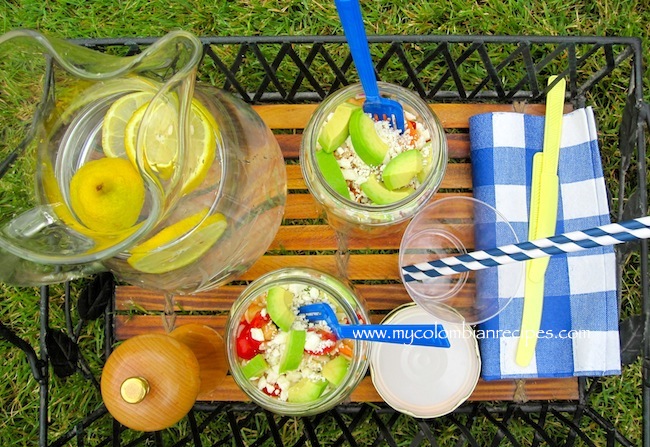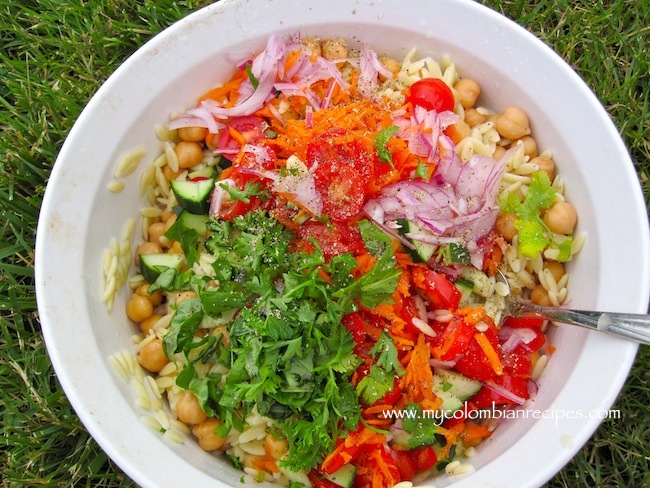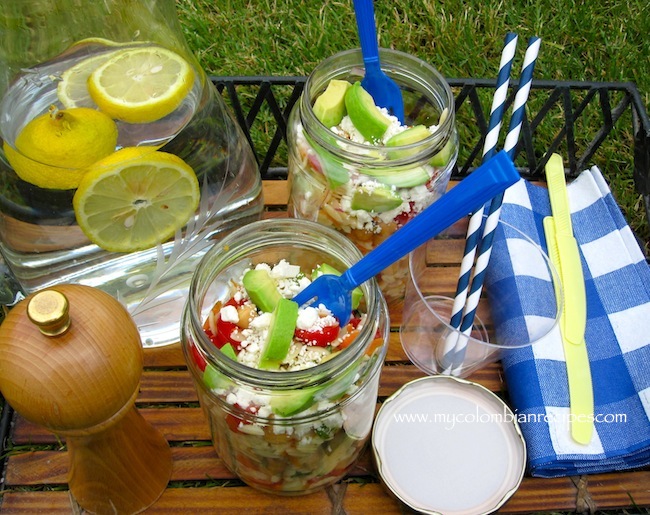 Be sure to visit the GE Appliances brand page on BlogHer.com where you can read other bloggers' posts!