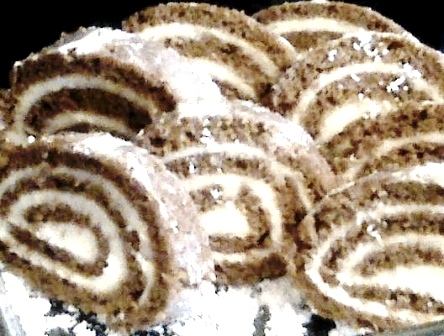 Guest posting today and sharing her delicious recipe is Danielle from "Cooking for My Peace of Mind". Danielle has a fantastic blog filled with delicious recipes and wonderful stories.
~Erica
How exciting for me to be a guest on Erica's blog while she's away! I've been a big fan of hers for a while now and have enjoyed several of her recipes. I know that she gets to the point (and recipes) a lot quicker than I do…so I will try not to be as chatty as usual 🙂
Before I begin though….I have to apologize for the quality of the picture. You see, it was taken a while ago. Actually…probably before I started blogging. And well, I like to think that my photography skills have improved some since then. Unfortunately this is the only photo I have of this wonderful dessert.
I think I'm one of the weird ones…I'm not a huge fan of pumpkin pie (is it me or does that almost sound un-American?). But I had seen this dessert on TV one day and HAD to try it. I found it, made it…and loved it instantly. Since then it has become a favorite among family and friends….and is quickly becoming a holiday tradition. I hope you enjoy it as much as we do.
• Ingredients:
• 3 Eggs
• 1 cup Sugar
• 2/3 cup Pumpkin
• 1 teaspoon Lemon juice
• 3/4 cup All-purpose flour
• 1 teaspoon Baking powder
• 2 teaspoons Cinnamon
• 1 teaspoon Ginger
• 1/2 teaspoon Nutmeg
• 1/2 teaspoon Salt
• Filling:
• 8 ounces Cream cheese — softened
• 4 tablespoons Butter — or margarine
• 1 cup Powdered sugar
• 1/2 teaspoon Vanilla
In large bowl, combine eggs and sugar, beating well. Add pumpkin and lemon juice, mixing until blended.
In separate bowl, combine flour, baking powder, spices and salt. Add to egg mixture, mixing well. Spread batter into greased 10-by-15-inch jelly-roll pan lined with waxed-paper.
Bake at 350 ° for 15 minutes. Remove from oven. Cool for 15 minutes. Place cake on clean tea towel sprinkled liberally with powdered sugar. Cool 10 minutes longer. From 10- inch side, roll cake up in towel. Set aside.
While cake is cooling in towel, prepare filling. Beat together cream cheese and butter; stir in powdered sugar and vanilla and blend until smooth.
Unroll cake. Evenly spread filling over cake. Roll up cake (without the towel). Wrap in plastic wrap. Cover and chill at least 1 hour. Slice before serving. Keep leftover slices refrigerated. This pumpkin roll freezes well.
This was printed from MyColombianRecipes.com