This is sponsored content from BlogHer and The Laughing Cow.
So, just how do we stay fit as the holidays approach and all of its temptations are upon us?
Exercise and eat right, of course. We all know that's what we need to do to stay fit and healthy, but it's much easier said than done. I have to admit, I am not a diet or exercise freak, but I do like to look and feel good so my solution is... BALANCE.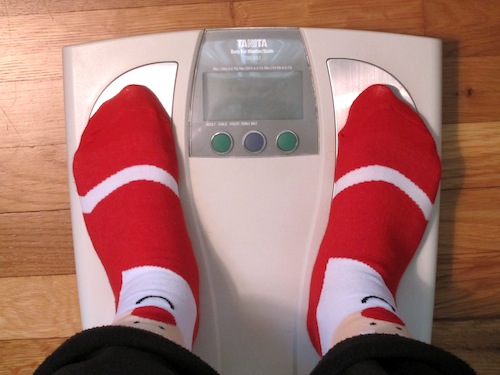 There has to be a happy medium somewhere in between eating only steamed vegetables and adding pork belly to all of your dishes as my grandmother used to do. I try not to sacrifice taste just to lose weight so for me it's about the balance of good tasting food with fresh and healthy ingredients, but not to the point that I'm diminishing the flavor, because I love good tasting, flavorful foods. I try to use the minimum amount of fat that I feel is needed to maintain great flavor while cooking healthy.
This holiday season is going to be especially challenging for me because I am pregnant! Did I neglect to mention that? 😉 Being pregnant makes it more difficult for me to diet and exercise. I am almost always tired and I'm carrying an extra fifteen pounds. And because I am eating for two, I crave little snacks throughout the day.
Nowadays, we are lucky enough to have products on the market that don't sacrifice flavor and are low in fat, which make staying fit and healthy much easier. The Laughing Cow for example has many delicious and healthy snacks available for your family. We absolutely love their Mini Babybel Cheese. I always keep this cheese at home for my son and me. If you want learn more about Laughing Cow products you should visit their official site and go to the store and try some for yourself.
Being a busy mom, I have learned how to squeeze in some exercise without sacrificing time and making a huge effort. Here are some tips that I find helpful. When going to the mall for your holiday shopping, try walking up stairs instead of using the escalator or elevator. You could vacuum your house more often and don't forget to take the dog for daily walks. Not only will you burn some calories, but you'll have a clean house and a happy dog!
You could take your kids to the park and run around with them instead of sitting on a bench talking with the other moms drinking a cafe' au lait. You could also push them on the swing...over and over and over again...
Finally, if you have a little extra time, take a Zumba class! It's a great way to meet new people and have some fun while staying fit. You'll feel like you are at a party the whole time, which is wonderful for the holiday spirit. I'll bet you didn't know that Zumba was created by a Colombian guy. No wonder why Zumba classes are so much fun!
Oh, and by the way, I am giving away a $150 Visa gift card from BlogHer! If you would like to a chance to win, please leave a comment with your thoughts and tips on how you stay fit and healthy during the holiday season even while surrounded by all those holiday temptations and you will be entered in the giveaway. Please keep your comments G-rated as any profanity or offensive content will automatically disqualify you from sweepstakes entry. I will use a random number generator to select the winner from the comments.
And don't forget to visit The "Daily Dose of Well-Being" to read daily health tips and for weekly chances to win at the "Play for Laughs" game and to check out other bloggers' stories and more chances to win!
Click here for official rules.
PS- Please keep in mind the following as per the official rules:
-Initial Winner will be notified by email. Please check to ensure we have your current, correct email address. Winners must accept their prize within 72 hours of notification. If the Prize is not timely accepted by the Initial Winner, the Alternate Winner will be notified by email and shall be awarded the Prize if timely accepted. Please do not leave your email address in the body of your comment but rather in the corresponding field on the comment form.
-Only two entries per household.
-Entries must be written in English. Sorry to anyone who only writes in Spanish, but I don't make the rules 🙂
I will also be announcing the winner on my blog as well so if you've already left a comment without your email address, just be sure to check back when the contest is over. You can always supply me with your email address at that time. Thanks and good luck!