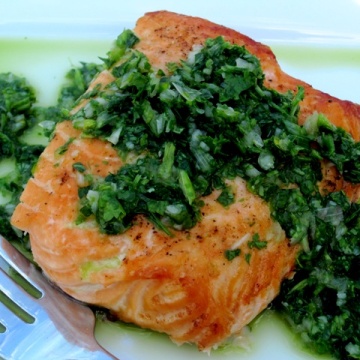 Salmon with Chimichurri Sauce
Ingredients
4

5oz Salmon fillets

Salt and pepper

3

tablespoons

olive oil
Instructions
Preheat the oven to 400° F.

Place the salmon fillets in a large baking dish. Drizzle olive oil and season each fillet with salt and pepper.

Place the baking dish in the oven and bake for 15 to 20 minutes or until the salmon is cooked through. Spoon chimichurri sauce over the salmon fillets and serve.

Place the rest of the chimichurri in a serving bowl and leave on the table with the salmon to be used as a topping, if desired.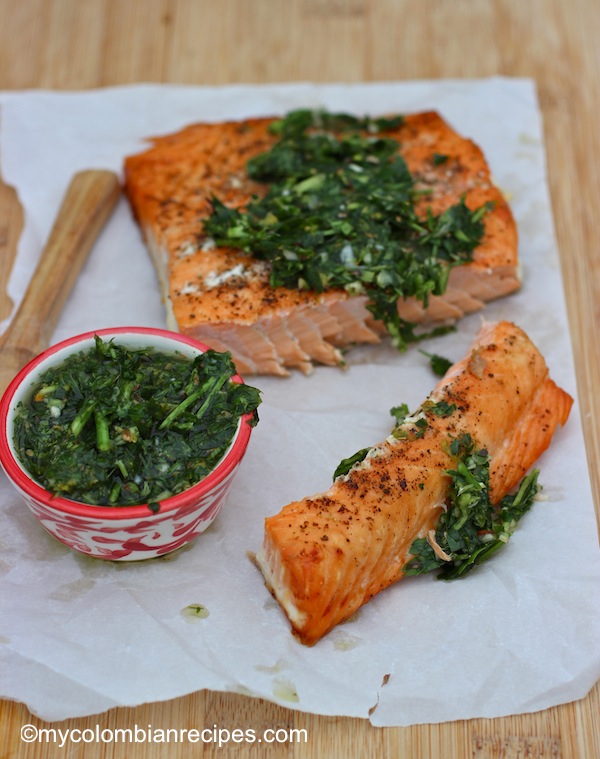 The idea of making salmon with chimichurri came to me a few days ago out of the blue and I thought it could be delicious. I remembered that when I lived in Colombia I had store bought chimichurri in the fridge most of the time. I would put it on all of my meats and even over white rice, but since I came to the United States I haven't used it much, so guess what? Starting today, I will have homemade chimichurri in my fridge.
As I've mentioned in other posts, chimichurri is a traditional Argentinean herb sauce but there are other South American variations as well. For example, in Colombia, we add cilantro to the chimichurri. I hope you enjoy this salmon with Colombian chimichurri sauce!
Buen provecho!