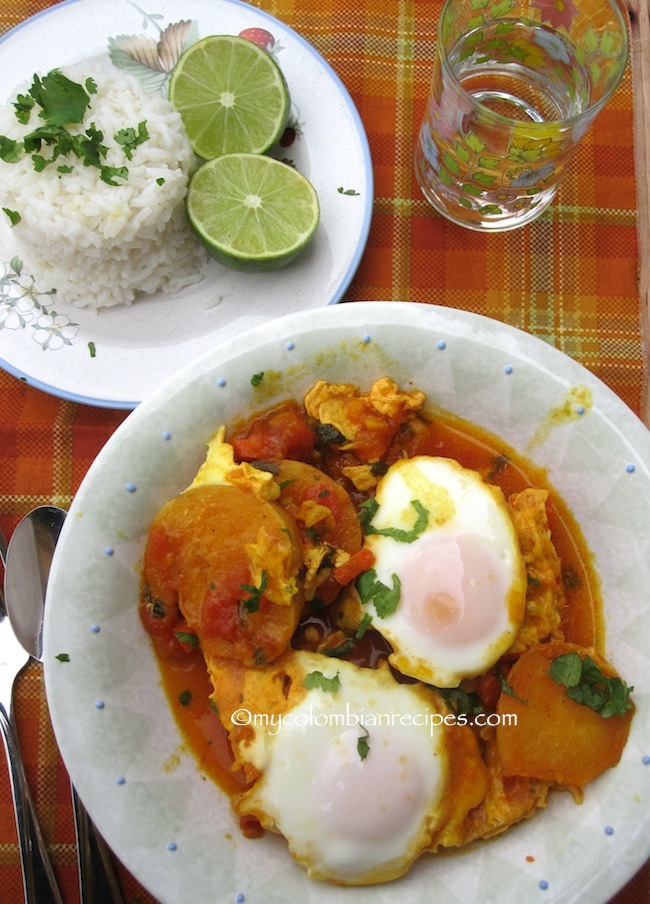 Sudado, or Sudao, is a traditional and popular Colombian dish made with poultry, seafood or meat, and cooked in a rich sauce made with onions, scallions, garlic, tomato, red bell pepper, achiote and other spices. The dish also contains potatoes, and possibly yuca and carrots, depending on the taste and style of the person cooking it.
This Sudado de Huevo is popular in the Quindio department of Colombia and it is usually eaten for breakfast. It is a comforting meatless Colombian dish that is easy to make, tasty, and inexpensive!
Buen provecho!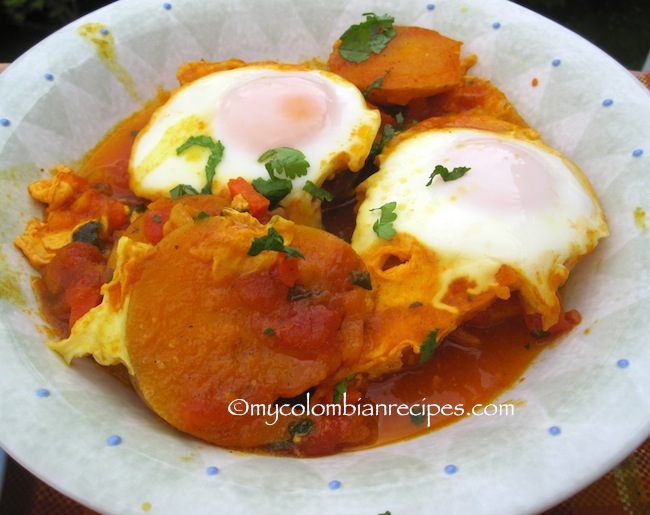 Ingredients
(4 servings)
1 tablespoon of vegetable oil
1 cup chopped onion
3 scallions, chopped
¼ cup chopped red bell pepper
3 garlic cloves, minced
2 cups of chopped tomato
1 teaspoon of achiote powder or color
¼ teaspoon cumin powder
¼ cup chopped fresh cilantro
Salt and pepper
8 small yellow potatoes, peeled and cut in half
1 large carrot, peeled and sliced
2 1/2 cups of chicken or vegetable stock
8 large eggs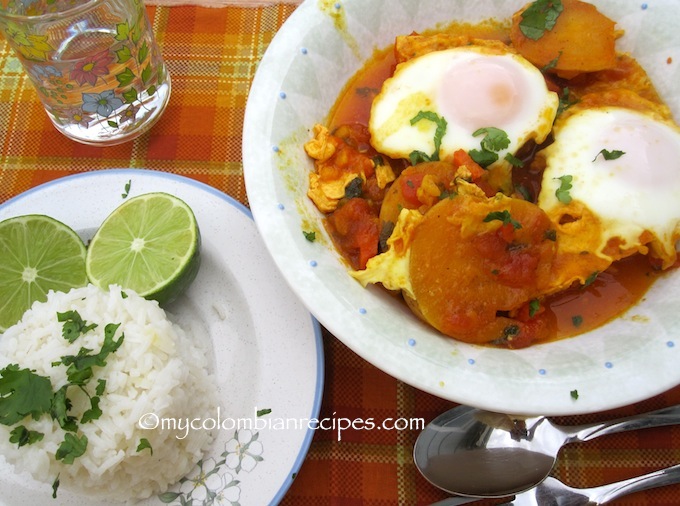 Directions
In a large sauce pan, heat the vegetable oil over medium heat. Add the onion, scallions and red pepper and sauté until onions are translucent, about 3 minutes. Then add the tomatoes, garlic, salt and ground pepper and sauté for 5 more minutes.
Add the stock, potatoes, carrots, sazon Goya and cumin powder. Cover and cook for 25 minutes, stirring occasionally. Season to taste with salt and pepper.
Crack eggs, one at a time, and place over sauce, spacing evenly apart and cook for an additional 5 to 8 minutes or until the potatoes are tender.
arnish with cilantro. Serve with white rice on the side.
This was printed from MyColombianRecipes.com