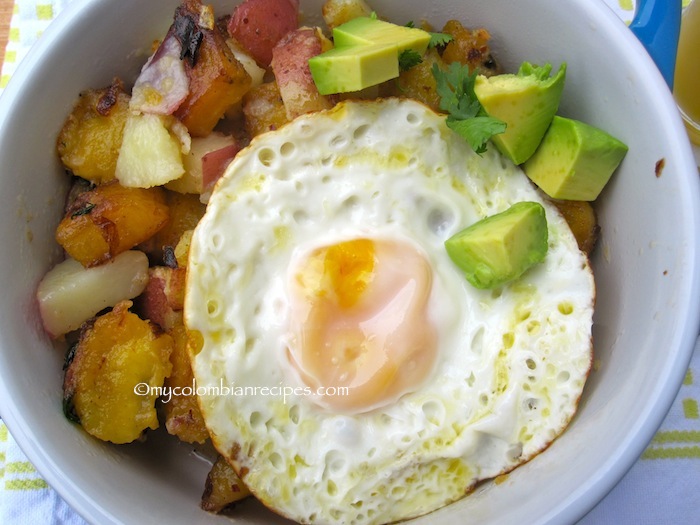 Plantains, or plátanos in Spanish, may seem like an exotic vegetable to many people in the United States, but this vegetable is one of the most popular ingredients in Colombian Cuisine. Ripe plantains are yellow and black, and are sweet tasting. The more black, the sweeter the plantains. Conversely, green plantains are more bland.
This Sweet Plantain and Potato Hash is a simple yet flavorful dish. I find it incredibly comforting. I recently had it for breakfast on our porch, while enjoying a warm, late summer morning. I loved everything about this dish. It will also make a wonderful light dinner or lunch with a glass of wine and a green salad!
Buen provecho!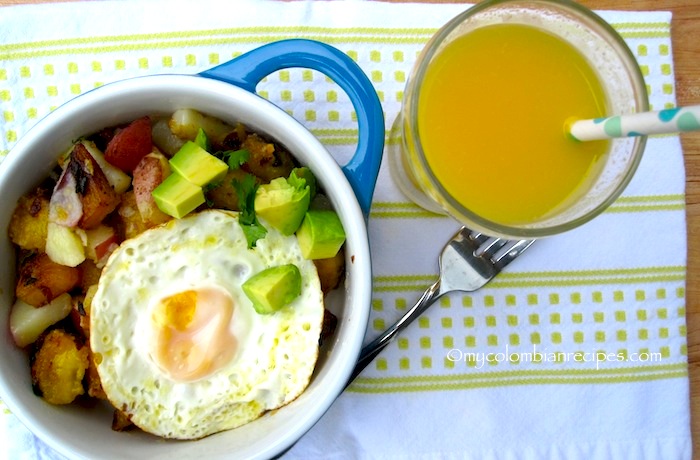 Ingredients
(About 4 servings)
2 large red-skinned potato, cut into inch cubes
2 ripe plantains, peeled and cut into cubes
2 tablespoons of vegetable oil
1 small red bell pepper, finely chopped
1 cup of finely chopped onion
2 garlic cloves, minced
2 scallions, chopped
1/2 teaspoon of ground cumin
Salt and pepper
Fried or poached eggs, for serving
Avocado for serving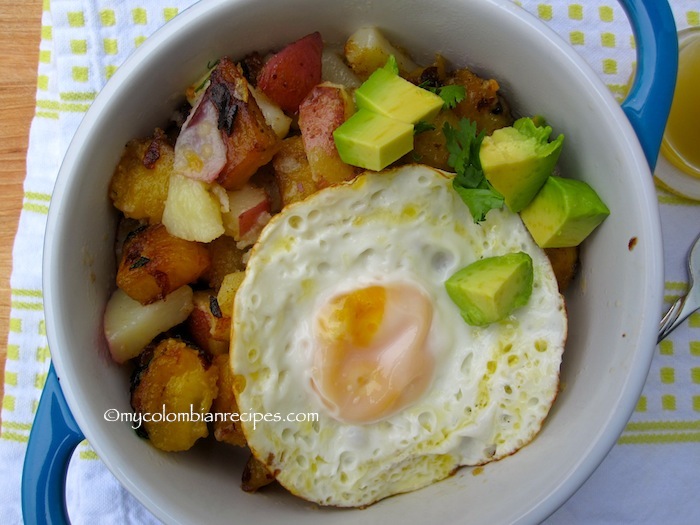 Directions
Put the red potato in a pot and add water to cover. Bring the water to a boil over high heat, reduce the heat to medium-high and cook until the potatoes are almost tender, about 10 minutes. Drain and set aside.
Meanwhile, in a large sauce pan over medium-high heat, warm the oil. Add the bell pepper, onion, garlic, scallions and sauté until the onion is translucent, about 2 minutes. Add the plantains, spreading them in a single layer. Reduce the heat to medium and cook, stirring occasionally, until the plantains start to brown and the pepper is soft, about 3 minutes.
Add the potatoes and cumin. Season with salt and pepper and cook, stirring, until the potatoes start to break down, about 1 minute.
Divide the hash among individual plates or bowls. Place an egg on top of each serving of hash, garnish with diced avocado and serve immediately.
This was printed from MyColombianRecipes.com