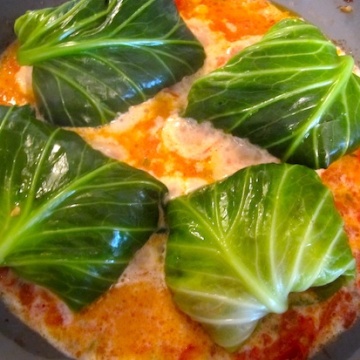 Indios de Guiso (Colombian-Style Stuffed Cabbage)
Ingredients
12

cabbage leaves

2

tablespoons

oil

½

cup

chopped onion

⅓

cup

chopped red bell pepper

1

scallion

chopped

2

garlic cloves

minced

1

cup

chopped tomato

½

pound

ground beef

½

pound

ground pork

¼

cup

beef broth

1

teaspoon

ground cumin

Salt and pepper

½

cup

bread crumbs

1

large cooked and diced potato

2

cooked eggs

chopped

4

tablespoons

butter

3

cups

chopped tomato

½

cup

chopped onion

¼

cup

red bell pepper

1

garlic clove minced

½

teaspoon

ground cumin

Salt and pepper

½

cup

chicken broth

2

cups

milk
Instructions
To make the cabbage rolls, bring a large pot of salted water to a boil over high heat. Using a sharp paring knife, cut out the core from the cabbage. Lower the cabbage into the boiling water and cook until the leaves soften, about 5 minutes. Remove and set aside to cool. When the cabbage is cool enough to handle, gently peel off 12 large outer leaves. Drain the leaves and let cool.

o make the filling: In a large pot over medium heat, heat the oil, add the onion, red bell pepper, scallion, tomato and garlic to the pot and sautué over medium heat until the vegetables are tender, about 5 minutes. Add the pork, beef, cumin and beef broth.

Add the cooked egg, cooked potato and bread crumbs. Stir well and set aside.

To make the sauce, heat the butter in a large sauce pan, add the onions, and cook over medium-low heat for 8 minutes, until the onions are translucent. Add the tomatoes, red bell pepper, garlic, cumin, salt, and pepper. Cook for about 5 minutes more. Add the milk and chicken broth. Remove from the heat and set aside.

To assemble: Remove the hard triangular rib from the base of each cabbage leaf with a small sharp knife. Place about ¼ cup of filling in an oval shape near the rib edge of each leaf and roll up toward the outer edge, tucking the sides in as you roll.

Place the cabbage rolls, seam sides down, over the sauce in the sauce pan and cook covered for about 15 minutes over low heat. Serve hot.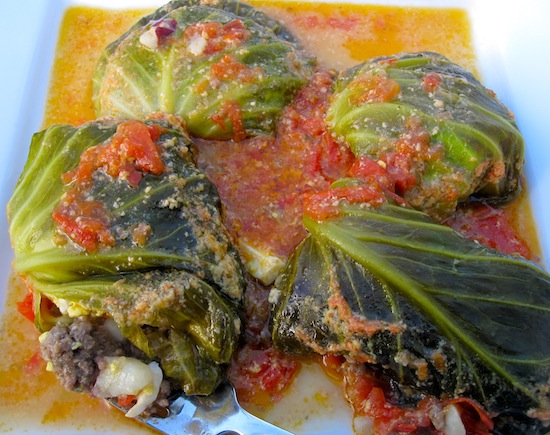 It's crazy this year how fast the seasons are coming and going, and without much warning, now fall is gone. Winter is not really my favorite season, actually it is my least favorite. The only things I enjoy about winter are, sweaters, scarves, boots and the comforting foods you can cook and eat, like this dish.
Indios de Guiso is a Colombian-style stuffed cabbage dish from the Boyaca department of the country. This cabbage dish is stuffed with pork, beef, cooked egg, vegetables, spices and cooked in a Colombian style sauce. You can serve it with white rice on the side if you like.
I think of enjoying it by the window on a snowy day, with warm slippers on. I could eat meals like this one every day!
Buen provecho!