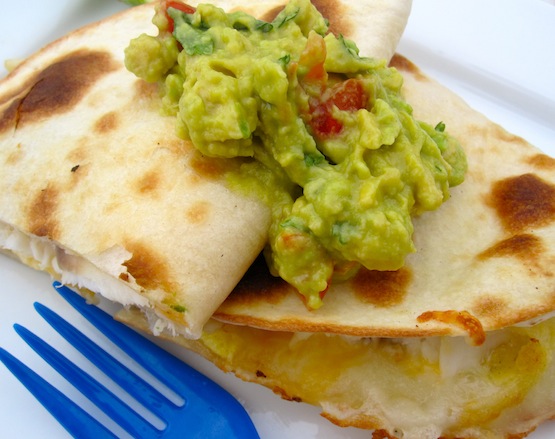 Here's a delicious, easy to make dish for tonight. There's lots to love about this quesadilla but the best part is that it adapts to whatever fish you like. Accompany the quesadillas with guacamole for added flavor.
Buen provecho!
Ingredients
(4 servings)
3 tilapia fillets
juice of 1 lime
1/4 teaspoon paprika
1/2 teaspoon ground cumin
1/2 teaspoon garlic powder
1/2 teaspoon onion powder
1/4 teaspoon chili powder
Salt and pepper
2 tablespoon flour
8 flour tortillas
1 cup shredded pepper jack cheese
1 cup shredded Monterey jack cheese
Vegetable oil
1/4 cup fresh cilantro
Guacamole for serving
Directions
repare the fish:
Place the fillets in a bowl, add the lime juice. Season on both sides with the paprika, cumin, garlic, onion, chili powder, salt and pepper.
Sprinkle the fillets on both sides with the flour, shaking off any excess. Add the fillets to the pan and cook until golden brown, about 3 minutes. Turn the fillets over and cook, about 3 minutes.
Break the cooked fish into smaller pieces and keep warm.
Prepare the quesadillas:
Spread out the tortillas evenly on a work surface. Divide the cheese and fish evenly, sprinkling the bottom half of each tortilla evenly with the cheese and fish, then with the fresh cilantro.
Fold the tortilla in half to enclose the filling and press firmly. Stack the quesadillas on a plate and set aside.
Brush the pan with oil. Place 2 quesadillas in the pan and cook until the undersides are lightly toasted, about 2 minutes.
Flip the quesadillas and toast the other sides, about 2 minutes more.
Transfer to a baking sheet and keep warm in the oven. Repeat with the remaining quesadillas, brushing the pan with oil between batches.
Cut each quesadilla into wedges and serve immediately with guacamole.
This was printed from MyColombianRecipes.com