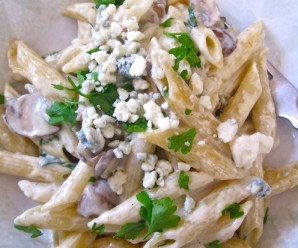 Pasta with Mushrooms and Gorgonzola Cheese Sauce
Ingredients
1

pound

pasta

3

tablespoons

olive oil

⅓

cup

chopped onions

1

garlic clove minced

8

oz

baby bella mushrooms

sliced

Salt and pepper

1

cup

heavy cream

¾

cup

chicken stock or vegetable stock

1 ¼

cup

gorgonzola cheese

divided

¼

teaspoon

fresh thyme

2

tablespoons

fresh parsley
Instructions
Cook pasta in boiling salted water until al dente. Drain well and keep warm.

Heat oil in a large saucepan over medium heat. Add the mushrooms and cook for 5 minutes or until soft, stirring occasionally. Add onions, garlic, salt, pepper and thyme. Cook 4 minutes, stirring occasionally.

Add the chicken stock, heavy cream, increase the heat to high and bring to a boil. Reduce the heat to medium low and simmer until thick, stirring constantly with a wooden spoon about 5 minutes.

Add 1 cup of gorgonzola cheese and 1 tablespoon of parsley. Stir well and adjust the seasoning to taste.

Add the pasta to the mushroom sauce, stirring well, and cook until the pasta is heated through, about 2 minutes. Remove from heat and sprinkle with remaining gorgonzola cheese and parsley. Serve immediately.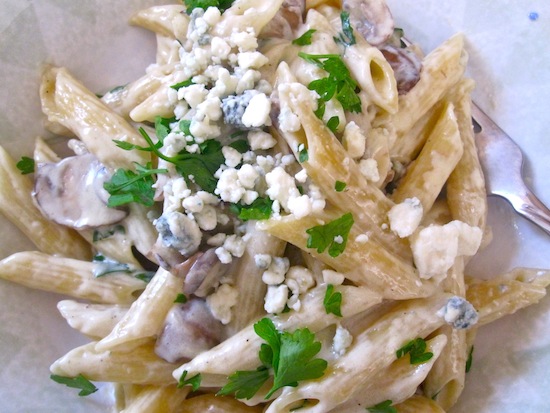 If you are a regular reader, you know that my American husband is a vegetarian* and I am a Colombian girl who loves all kinds of meats 😉 So, every day I have to think about a dish that we all can eat and be a happy family. That is how this Pasta with Mushrooms and Gorgonzola Cheese was born. Simple and delicious dish!
Perfect for a weeknight dinner with bread and a salad on the side.
* Actually, I learned that Gorgonzola is not a vegetarian cheese. See comments below on May 24th. Sorry for my ignorance and I meant no offense.