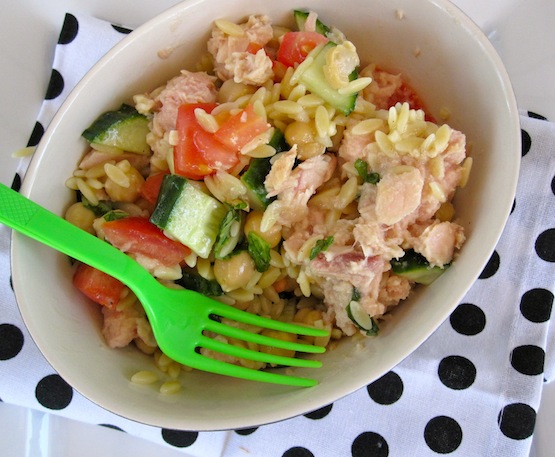 Today's recipe is a good summer salad: Tuna, orzo, chick peas, tomatoes, cucumber and fresh herbs with a lemon dressing. This refreshing salad just might become a summer staple at your table. It is wonderfully filling, improves as it sits, and can be easily transported for lunch at the office.
The tuna makes this a meal-in-a-bowl type of salad, and if you want a vegetarian option, just omit the tuna.
Buen provecho!
Ingredients
(4-6 servings)
2 cups orzo pasta
1(15) can garbanzo beans,rinsed and drained
1/3 cup English cucumber, diced
1 tomato, diced
1/4 cup finely chopped onions
1 tablespoon chopped scallions
1 garlic clove, minced
Salt and pepper
3 tablespoons olive oil
Juice of 2 lemons
Zest of 1 lemon
1 tablespoon white vinegar
1 tablespoon fresh parsley, Chopped
3 tablespoon fresh basil, chopped
2 cans tuna, drained
Directions
Bring a large saucepan of lightly salted water to a boil. Add the orzo and cook until tender, but still firm to the bite. Drain the pasta and set aside to cool.
Place the garbanzo beans, cucumber, tomato, scallions, garlic, parsley, basil and onions in a large salad bowl, mix well and then add the orzo and tuna.
Mix together the lemon juice, zest,white vinegar and olive oil in a small bowl. Pour the mixture over the salad and mix well.
Using 2 forks until well mixed. Keep in the refrigerator until ready to serve.
This was printed from MyColombianRecipes.com