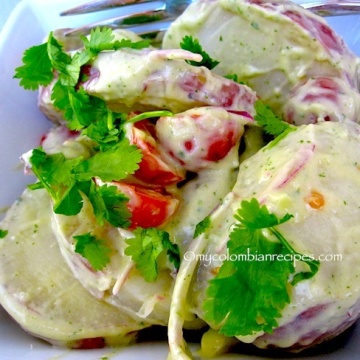 Potato Salad with Avocado Dressing
Ingredients
½

cup

creme fraiche or crema fresca

1

ripe avocado

peeled and diced

4

tablespoons

fresh lime juice

1

tablesppon white vinegar

Pinch

of chili powder

½

teaspoon

ground cumin

2

garlic cloves

finely chopped

1

scallion

chopped

½

cup

chopped cilantro leaves

plus more for garnish

1

pint

of grape tomatoes

cut in half

1

small red onion

thinly sliced

Salt and ground black pepper

About 3 pounds of cooked red potatoes

skin on and sliced about½-inch thick.
Instructions
To make the dressing: Place all the ingredients in the blender and blend until creamy consistency.

Combine all the salad ingredients, in a medium bowl and season with salt and pepper, to taste.

Add the dressing to the potatoes and mix well. Season again with salt and pepper, to taste.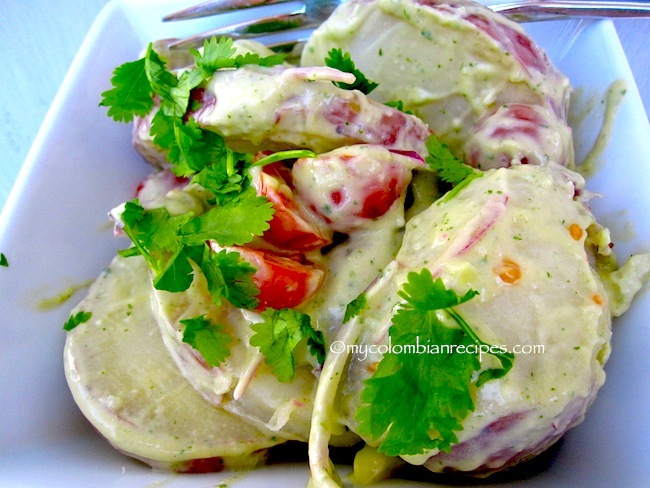 This Potato Salad with Avocado Dressing began as a simple lunch idea, and turned into something wonderful. The secret to this salad is the avocado dressing that is used instead of the typical mayonnaise. This gives the potato salad not only it's creamy, silken texture, but it also adds a twist to the flavor, as compared to traditional potato salad.
I knew I wanted to add some red onion for texture, but beyond that, I just kept reaching for things in the kitchen that I needed to use up! I found grape tomatoes, cilantro, limes and some ripe avocados in the fruit bowl, so, in the potato salad they went. This is one of the best potato salads that I've ever had. Buen provecho!