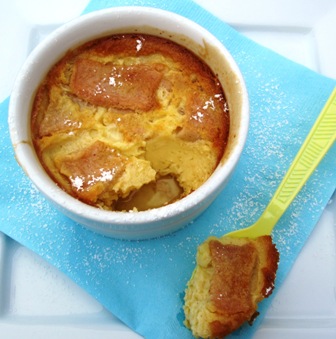 I have a passion for fruit desserts but I don't like to bake, as you may know. So, while at the supermarket the other day, I came across some beautiful pears, but had no idea what to make with them. Well, I bought them anyway and on the way home I decided to make a pear flan. I love to make flan not just because it is delicious, but because it is very easy to make. Here it is… another flan recipe

Ingredients
(6 Servings)
Caramel
1 cup sugar
¼ cup water
Flan
2 Whole eggs
5 egg yolks
1 can sweetened condensed milk
1 cup whole milk
1 cup heavy cream
1 ½ tablespoon sugar
½ teaspoon vanilla extract
¼ teaspoon ground cinnamon
3 pears, peeled and thinly sliced
Directions
1. To prepare the caramel, put 1 cup of sugar in a small pot with ¼ cup of water. Bring to a boil over high heat. Stir once and reduce the heat to medium and cook about 5 minutes or until the syrup turns a caramel color.
2. Immediately pour an equal amount of the caramel into each ramekin or any oven proof mold you want to use. Swirl each dish to coat the base with the caramel, work fast as the caramel will harden quickly as it cools. Place all the ramekins in a large roasting pan and set aside.
3. Preheat the oven to 350° F.
4. In a medium bowl, using an electric mixer, mix the eggs, egg yolks and 1 ½ tablespoon sugar for 2 to 3 minutes. Add the condensed milk, heavy cream, whole milk, ground cinnamon and vanilla extract and mix for 1 more minute.
5. Divide the sliced pears into equal amounts and place on top of the caramel in each ramekin.
6. Carefully pour an equal amount of the flan mixture into the ramekins, over the pears and caramel. Then add hot water to the roasting pan, not to the ramekins, until the water comes half way up the sides of the ramekins.
7. Place the roasting pan in the oven and bake for 1 hour an 15 minutes or until a knife inserted in the center of the flan comes out clean.
8. Remove from the roasting pan and cool for at least 30 minutes. Then cover and refrigerate for at least 2 hours.

If you liked this post, you can say thanks by sharing it:
Related Posts