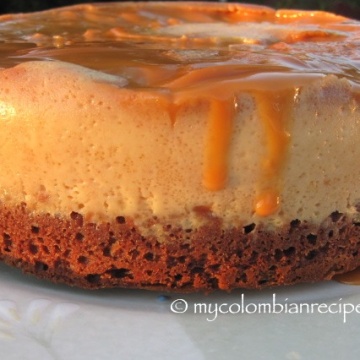 Chocoflan
Ingredients
1

cup

of dulce de leche

cajeta or arequipe

1 ½

cups

of sugar

1 ½

cups

of all purpose flour

¾

cups

cocoa powder

½

teaspoon

baking soda

½

teaspoon

baking powder

Pinch

of salt

1

cup

of sour cream or buttermilk

10

tablespoons

butter

3

eggs

at room temperature

½

teaspoon

vanilla extract

1

can

12 ounces evaporated milk

1

can

14 ounces sweetened condensed milk

5

eggs

at room temperature

½

teaspoon

vanilla extract
Instructions
Preheat the oven to 350F. Brush or spray an 8-inch cake pan with oil.

Spread the dulce de leche around the bottom and up the sides of the pan. Place the cake pan in a larger roasting pan, which you will use as a water bath during baking.

To make the chocolate cake layer, mix the sugar, flour, cocoa powder, baking soda, baking powder, and salt in a large bowl.

In a different bowl, with the mixer on low speed, mix together the sour cream or buttermilk, butter, eggs, and vanilla.

Slowly add the wet ingredients to the dry. Mixing just until combined. Scrape the batter in the mold, over the dulce de leche.

Make the flan layer: Place all the flan ingredients in the blender and blend until smooth.

Pour the flan mixture over the cake layer. Cover the with foil and fill the roasting pan with hot water, reaching halfway up the side of the cake pan, and bake for about 1 hour and 10 minutes, or until a knife inserted into the center comes out clean.

Let the Chocoflan cool in the water bath then refrigerate for at least 2 hours or overnight.

To serve, run a thin sharp knife around the rim of the flan. Place a platter or large plate on top of the flan and gently flip over so the plate is on the bottom.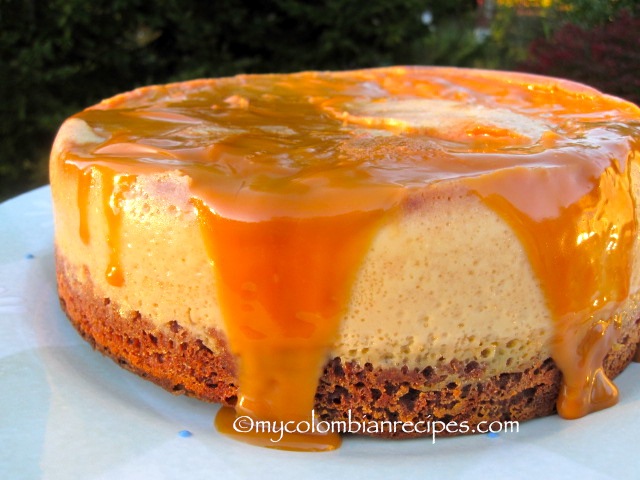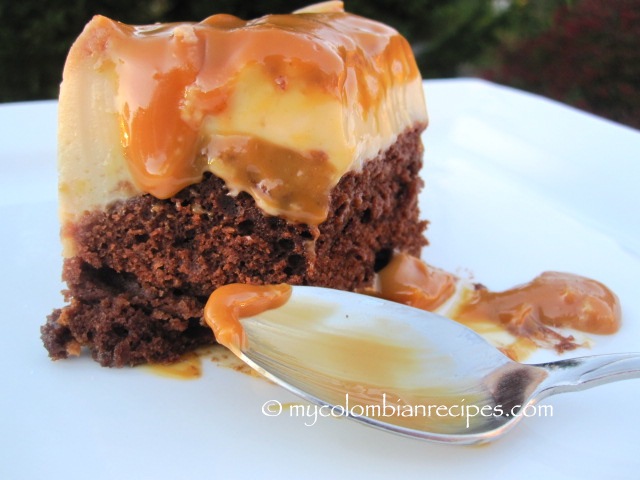 This blog has made so many things possible for me over the past 4 years. Besides the fact that I have become more experimental with my cooking, I am learning about photography, and improving my writing in English, which is my second language. I am also no longer afraid of complicated desserts! In that spirit, I took on this challenging Chocoflan, or "Impossible Cake", as it is sometimes called. In the end, I was totally amazed at how well it turned out!
Rich, creamy, and luxurious, Chocoflan is the perfect way to end any meal. So, what is Chocoflan anyway? It is a wonderful dessert that combines a layer of chocolate cake, with a layer of flan, topped with dulce de leche. Are you drooling yet? Okay then, I won't keep you in suspense any more...here's the recipe.
Buen provecho!