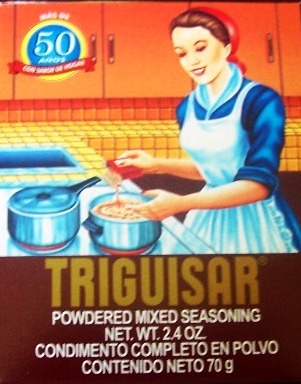 On those days when I feel homesick, it doesn't mean I don't like living in the United States and being an American citizen, but just that I miss my family and friends a lot. Those are the days that I will go to the closest Latin market and crazy or not, I go to the Colombian food aisle and feel like I am home. Just the other day I was walking in the supermarket looking for some Masarepa and I saw this little box of Triguisar and I was so happy that I wanted to buy a dozen! Maybe you are thinking, "what is the big deal, maybe she needs a shrink".
Ok, so let me explain. This powdered seasoning is one of the most popular seasonings in Colombia. I grew up seeing it in my grandmother's and mother's kitchen and seeing it again in a market here in the USA made me really happy. Every time I call my mom in Colombia for a recipe, she tells me to use Triguisar. To this point, the closest seasoning to this one, that I found here, is Sazon Goya with Azafran. Although I really like it, just seeing this little box of Triguisar from Colombia gave me a great feeling! I am sure that a lot of Colombians living in other parts of the world and others, who no longer live in their home countries, can understand! I hope so, if not, maybe I really do need a shrink
Like this recipe? Please say thanks by sharing it...