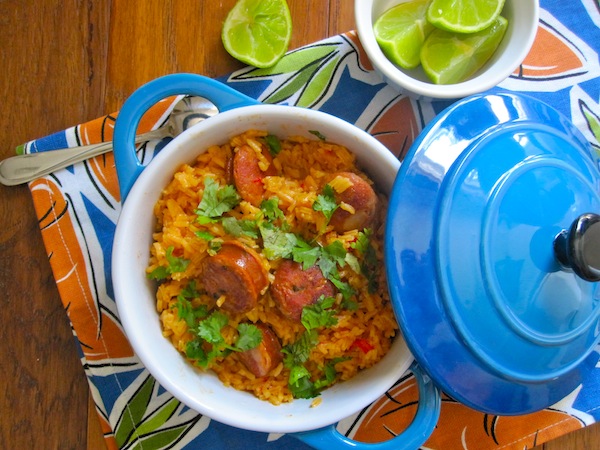 Arroz con Chorizo is a traditional dish from my hometown of Antioquia and it is absolutely delicious. I like to serve it with avocado and lime wedges on the side. Enjoy it!
Ingredients
2 tablespoon olive oil
1 onion, finely chopped
2 scallions, finely chopped
1 red bell peppers, diced
2 tomatoes, peeled and diced
4 garlic cloves, minced
1/2 teaspoon ground cumin
1/4 teaspoon achiote or azafran
2 cups uncooked rice
3 cups chicken broth
2 tablespoons tomato paste
2 pounds of Colombian chorizo, sliced
1/4 cup fresh cilantro, finely chopped
Salt and pepper to taste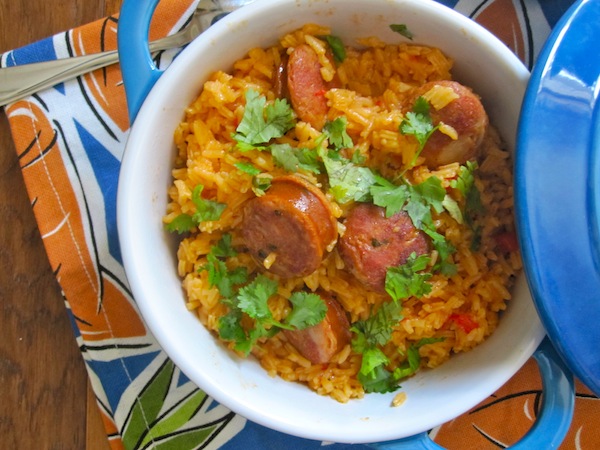 Directions
Heat the olive oil over medium heat in a large sauté pan. Add the onion, scallions and pepper and cook for about 5 minutes.
Add the tomatoes and garlic, and cook for another 5 minutes. Add the cumin, achiote, rice and stir for about 2 minutes.
Add the chorizo slices, broth and tomato paste, stir well and bring to a boil.
Reduce heat to a simmer, cover and cook for about 25 minutes.
Sprinkle with chopped cilantro and serve.
This was printed from MyColombianRecipes.com