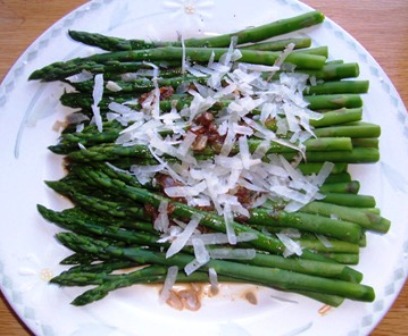 This is a richly flavored, asparagus recipe drizzled with a sherry vinegar dressing and would be a great choice for a spring dinner party.
Ingredients
(4 servings)
2 pounds asparagus
2 tablespoons olive oil
1 garlic clove minced
¼ cup chopped onions
¼ teaspoon sugar
1/3 cup sherry vinegar
Salt
Fresh ground pepper
1/3 cup grated manchego cheese
Instructions
1. Cook asparagus in a pot of boiling salted water until crisp tender, about 5 minutes. Drain in a colander.
2. Heat oil in a large skillet over medium heat. Add the onions and garlic and cook, stirring until softened, about 3 minutes. Add the sherry vinegar, sugar, salt and pepper and stir about 5 minutes.
3. To serve, drizzle the asparagus with the vinegar dressing and top with grated manchego cheese.
This was printed from MyColombianRecipes.com