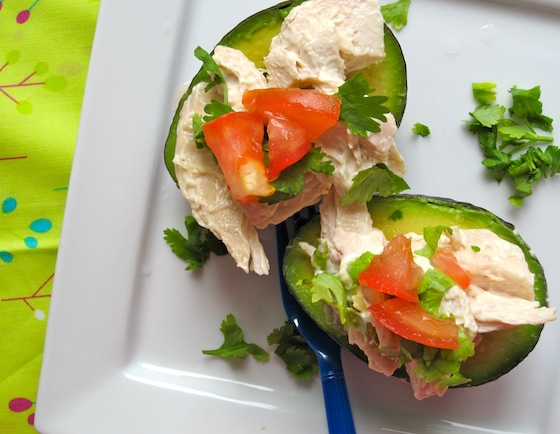 I made this Avocado Filled with Chicken two weeks ago, but somehow never got around to posting it. This recipe is so simple, yet so delicious.
If you have your own homemade roasted chicken…perfect. If not, use your favorite store bought chicken instead. It is also great way to use your leftover chicken. These stuffed avocados can be served as an appetizer or as a salad.
Buen provecho!
Ingredients
2 servings
1 avocado, cut lengthwise
2 cups cooked chicken, shredded
2 tablespoons grated onion
1/4 cup chopped fresh cilantro
1/4 teaspoon ground cumin
1/4 teaspoon paprika
1/4 cup crema fresca or creme fraiche
1/4 cup mayonnaise
1 tablespoon ketchup
1 teaspoons fresh lime juice
Salt and pepper
1 small tomato, finely chopped
Directions
In a bowl, combine chicken, cumin and paprika.
In a small bowl, combine crema fresca, mayonnaise, ketchup, lime juice, salt, and pepper.
Add small bowl mixture to chicken mixture, tossing gently to coat. Cover and chill.
Fill the avocados with the chicken mixture, top each avocado with tomato and sprinkle with chopped cilantro. Serve immediately.
This was printed from MyColombianRecipes.com