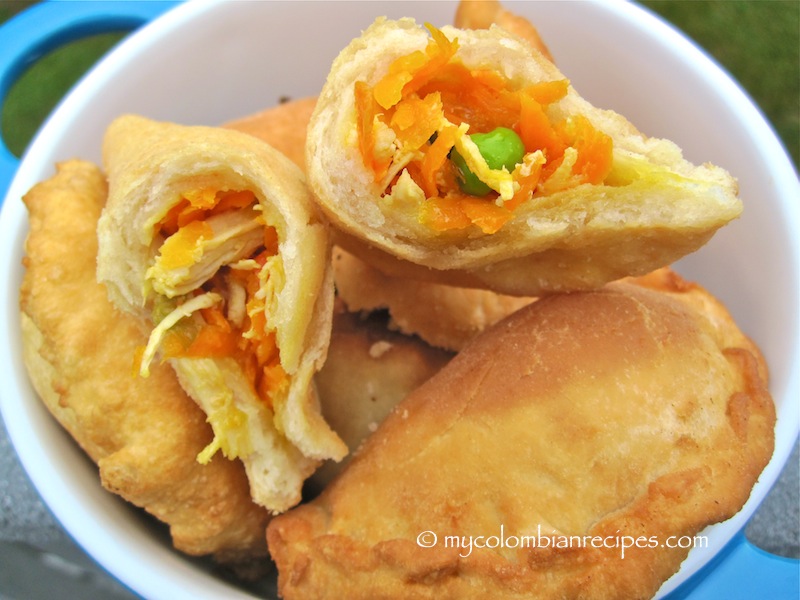 There are many variations of empanadas in Colombia and Latin America, depending on the region, and even the family. My mom has a delicious chicken empanadas recipe, which I've slightly adapted to prepare this version.
I love making empanadas because they are so versatile. You can fill them with most anything, even leftovers, such as shredded beef from a stew, or leftover turkey, ham, stuffing or sweet potatoes from the holidays. Of course you don't have to use leftovers to make empanadas! Here a just a few of my other empanada recipes, Empanadas Colombianas (Colombian Style Empanadas), Empanadas de Pipían (Empanadas Filled with Peanuts and Potatoes) and Empanaditas de Carne (Small Beef Turnovers).
Make empanada dough and fill it with something tasty and eat them for breakfast, lunch, afternoon tea or dinner.
These Empanadas de Pollo make a wonderful appetizer for a New Year's Eve dinner party. There is only one catch….make lots because they go fast! Buen provecho.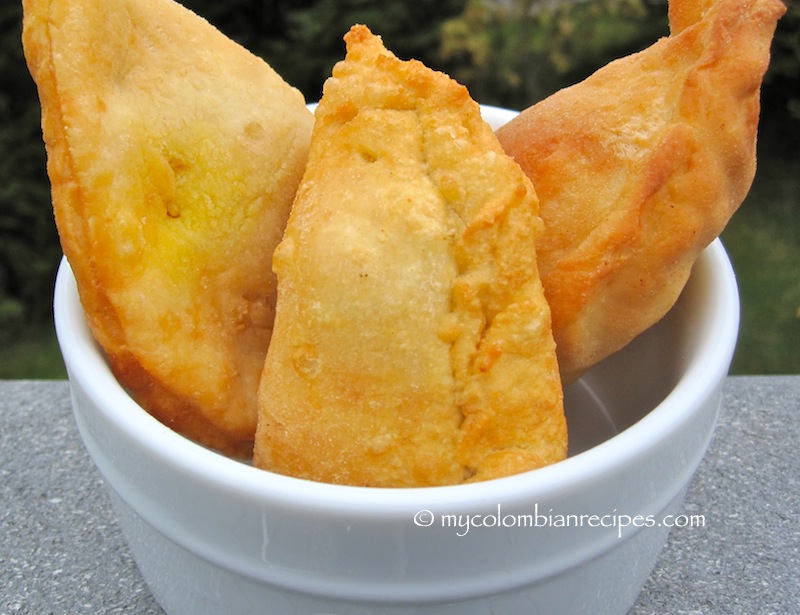 Ingredients:
(About 24 small empanadas)
Dough:
2 cups all purpose flour
1/2 teaspoon of salt
1/2 teaspoon of baking powder
4 tablespoons of butter
1/4 cup ice water
Filling:
2 tablespoons of butter
½ cup onion, grated
3 garlic cloves, crushed
1 cup of grated carrot
1 teaspoons ground cumin
2 cups shredded cooked chicken
3 tablespoons of chicken broth
1/2 cup of cooked peas
Salt to taste
1 egg
Vegetable oil for frying
Directions
o make the filling: In a large skillet, heat the butter. Add the onions, carrots, garlic, cumin and cook for about 6 minutes over medium heat.
Add the shredded chicken and chicken broth, stir well, and cook for about 2 minutes. Add the peas, season with salt and set aside.
To make the dough: Place the flour and salt in a food processor.
Add the butter, and water until a dough forms.
Form a ball, cover with plastic wrap and place in the refrigerator for about 30 minutes.
On a lightly floured surface, roll out the dough into a thin rectangle. Cut out round disc shapes with a round cutter or a small plate.

Fill empanada discs with chicken mixture. Brush the edges with egg and seal in the filling by pressing the edges together to form a half moon.

Preheat oil in a deep pot to 375 degrees F. Fry the empanadas in the oil for about 3 minutes on each side. Remove from the oil and drain on paper towels.
This was printed from MyColombianRecipes.com