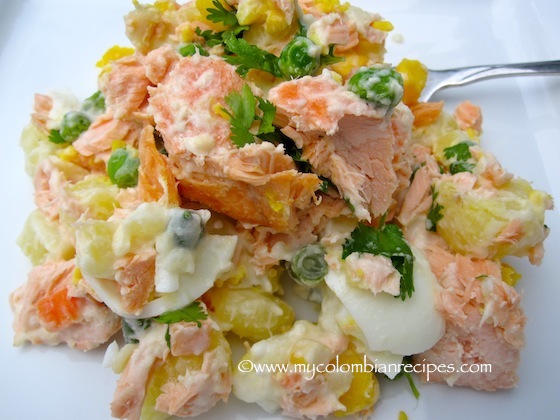 Looking for the perfect summer salad? Try this Salmon and Potato Salad at your next BBQ or picnic. It is simple and perfect for warm days and can be eaten hot or cold. All the flavors harmonize well together, and if you like salmon on your salads, you'll love this!
Buen provecho!
Ingredients:
3 large potatoes, peeled, cooked and diced
1 pound of cooked salmon, diced
3 tablespoons finely chopped onion
1/2 of cup yogurt
1/2 cup cream fraiche or crema fresca
3 tablespoons lime juice
1 garlic clove minced
2 tablespoons finely chopped fresh cilantro
Salt and pepper
1/2 pound carrots, peeled, cooked and diced
1/2 cup cooked peas
1/2 cup cooked corn
2 cooked eggs, diced
Directions
Place all the ingredients in a large bowl and mix well.
Sprinkle fresh cilantro on top and serve.
This was printed from MyColombianRecipes.com