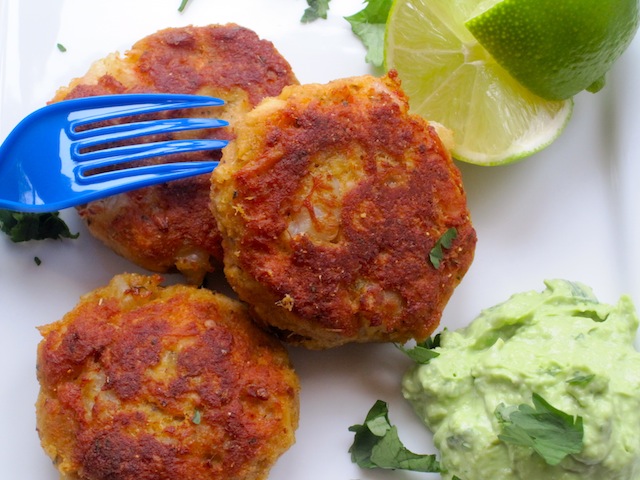 If you are looking for a quick and simple appetizer that doesn't look like it was quick and simple, try these delicious shrimp and tuna cakes with avocado sauce on the side.
This is a restaurant quality appetizer that you can make at home really easy with just a few simple ingredients or just serve them as a main dish with a green salad on the side.
Buen provecho!
Ingredients
(8 to 10 cakes)
2 (5oz) cans of tuna
8 cooked shrimp, chopped
Salt and pepper
1/2 teaspoon ground cumin
1/2 teaspoon onion powder
1/2 teaspoon garlic powder
1/2 teaspoon paprika
2 beaten eggs
1 teaspoon lime juice
1/4 cup bread crumbs
Pinch red pepper flakes
1 tablespoon oil
Avocado sauce
1 avocado
Juice of 1 lime
1/4 teaspoon ground cumin
1/3 cup mayonaisse
Salt and pepper
1/4 cup fresh cilantro
1 scallion
1/2 garlic clove
Directions
In a medium bowl, place the tuna, shrimp, paprika, onion powder, garlic powder, lime juice, bread crumbs, cumin, red pepper flakes, salt and pepper and mix well. Add the beaten eggs and mix to combine.
Form the mixture into round cakes. In a large saute pan over medium-high heat, fry the cakes in the oil, turning once, until lightly browned, about 3 minutes per side.
To make the avocado Sauce:
Place all the ingredients in a blender a blend until smooth. Transfer to a serving bowl. Season to taste.
This was printed from MyColombianRecipes.com