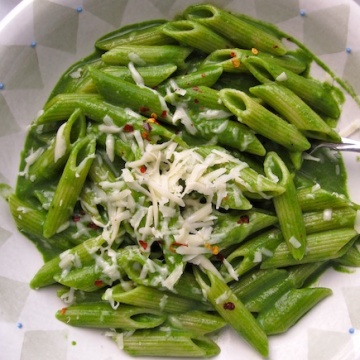 Pasta with Creamy Spinach Sauce
Ingredients
3

cloves

of garlic

peeled

½

cup

onions

diced

1

pound

fresh spinach

¼

cup

virgin olive oil

½

cup

cream cheese

⅓

cup

feta cheese

¼

cup

hot pasta water

Salt & ground black pepper

2

tablespoons

fresh lemon juice

1

pound

dried penne or other pasta

2

tablespoons

fresh parsley

Red hot pepper

optional
Instructions
In a fry pan over medium heat, warm the olive oil. Add the onion and sautué lightly until golden, 5 to 8 minutes. Add the garlic and sautué for 1 minute more.

Add the spinach and sautué, stirring, until completely wilted, about 3 minutes. Add the salt and pepper and continue sautuéing for about 2 minutes more.

Place the spinach mixture, parsley, feta cheese and cream cheese in a food processor. Add the hot pasta water. Then season with salt and plenty of black pepper.

Cook the pasta per package instructions. Drain and toss immediately with the green sauce. Sprinkle red hot pepper on top and serve with asiago or parmesan cheese.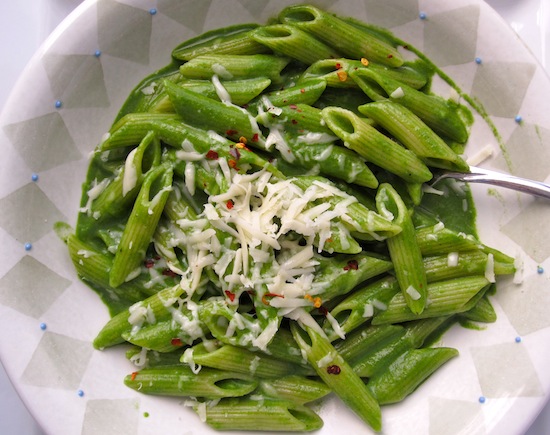 This is a perfect week night meal the whole family will enjoy. Sneaking spinach into a dish it is a great way to get your picky kids to eat more leafy greens without any complaints.
This is a wonderful and simple pasta dish that can be served with salad and bread on the side.
Enjoy!