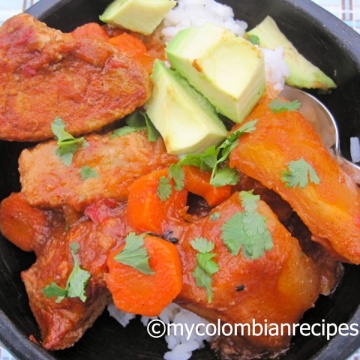 Estofado de Cerdo y Yuca (Pork and Cassava Stew)
Ingredients
2

pounds

pork loin

cut in large chunks

4

scallions

chopped

4

garlic cloves

1

teaspoon

ground cumin

1

white onion

cut in chunks

1

bell pepper

chopped

2

cups

of crushed tomatoes

Salt and pepper

2

tablespoons

of olive oil

½

teaspoon

achiote powder

¼

teaspoon

chili powder

3

cups

of beer

1

pound

of yuca

2

carrots

peeled and sliced

¼

cup

finely chopped cilantro
Instructions
Blend the scallions, garlic, cumin, salt and pepper with 1 cup of beer.

Marinate the pork meat in the scallion marinade for at least 3 hours or overnight.

Place the onion, bell peppers and tomatoes in the food processor and process for 2 minutes.

Heat the oil in a large pot. Add the pork pieces, onion, tomatoes and pepper mixture, stir and cook for about 5 minutes.

Add the achiote, chili powder, remaining beer and bring to a boil. Reduce the heat, cover and let simmer for about 2 hours or until the pork is tender and the sauce has reduced and thickened. Add water as needed throughout the cooking process. In the last 30 minutes of cooking time, add the yuca and carrots. Sprinkle fresh cilantro and serve hot with white rice.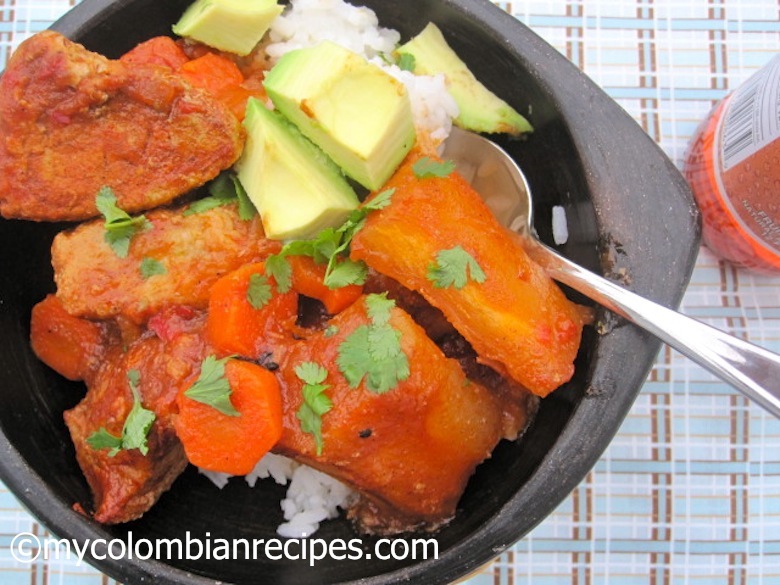 During the cold winter months, I love making my grandmother's Pork and Cassava Stew to warm-up from the inside out. The pieces of pork loin are simmered in a tangy tomato sauce, spiced up with some of my favorite Colombian spices, giving it a fantastic flavor. Estofados are at the top of my list of favorite comfort foods. While the pot simmers and the sauce thickens, the house begins to smell irresistible and inviting, chasing away the chill in the air.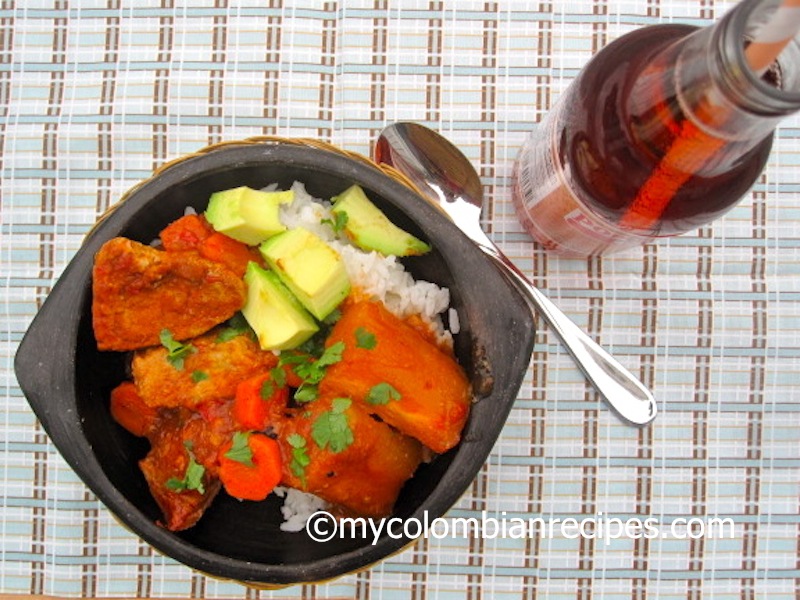 If you are not familiar with Estofados, it is a very popular type of stew in Colombia and other Latin American countries. These delicious stews are usually made with beef, pork or chicken. The meat is cooked in a tomato base sauce, beer and vegetables, such as onions and peppers, and different seasonings, spices and herbs, like garlic, cumin, achiote, and cilantro, amongst others. One of the best parts of Estofados is the sauce. These stews are always served with white rice, which soaks up the delicious sauce.
My grandmother taught me how to make this Estofado de Cerdo y Yuca. She used meat that was still attached to the bones because that gives the stew a lot more flavor. My kids, however, don't like the bones in their stew, even though the meat is so soft that it practically falls off the bones. I, on the other hand, think that one of the best parts of Estofados is to finish off the meal by sucking the meat off the bones! I used boneless pieces of pork in this recipe so my kids would eat it, but you can use a combination of pork ribs and pork loin when you make it.
While living in Colombia, I loved to visit Mamita during my lunch break from work. I would drive about 30 minutes to have lunch with her at least twice a week. Often, she would make me her Estofados, a big bowl of steamy white rice, with pieces of pork and yuca, in a wonderfully thick and rich tomato sauce, with avocado slices on the side. Mmmm, sounds great! I hope you enjoy it too!
Buen provecho!