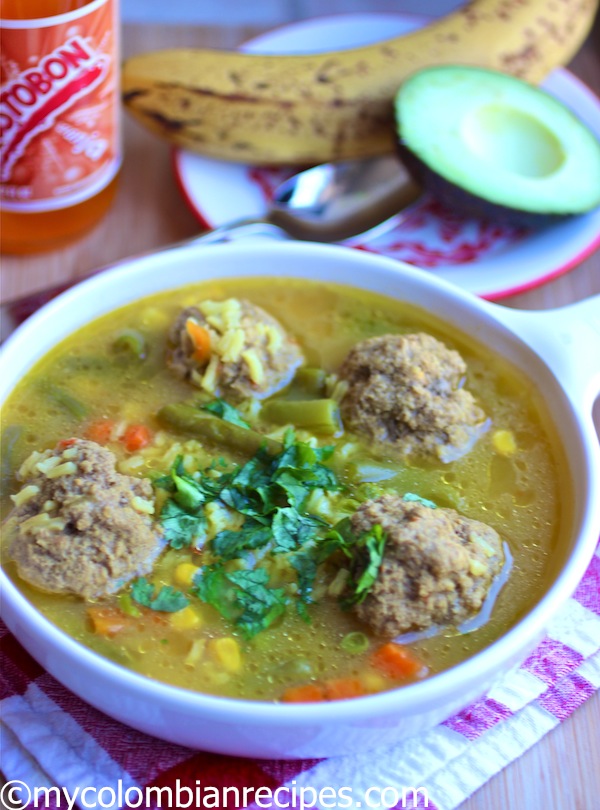 My grandmother's Meatball and Rice Soup is one of my favorite soups and I come to crave it every now and then. So this past Tuesday, I was very happy to have everything on hand to make it. Here's mamita's Sopa de Albóndigas con Arroz recipe. I hope you enjoy even half as much as I do.
Ingredients
(4 to 6 servings)
Meatballs:
1 pound ground beef
½ pound ground pork
1/4 teaspoon garlic powder
½ teaspoon onion powder
½ teaspoon ground cumin
2 beaten eggs
1/2 cupmasarepa
¼ cup warm water
Salt
Guiso:
1/2 cup chopped onion
2 garlic cloves, minced
1 scallion, chopped
2 medium tomatoes, chopped
¼ cup chopped cilantro
2 tablespoons oil
Soup:
8 cups water
1 beef bouillon tablet
½ teaspoon ground cumin
1/2 cup green beans
½ cup peas
½ cup chopped carrots
½ cup rice
½ teaspoon color , achiote or sazon goya with azafran
Fresh cilantro for garnish
Avocado for serving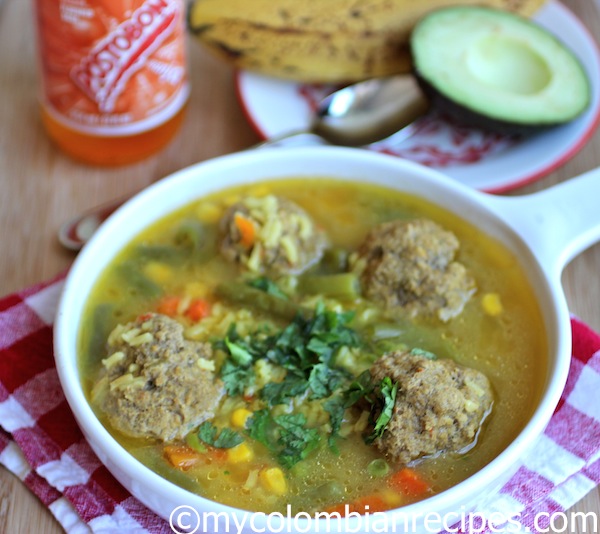 Directions
Make the guiso: In a medium sauce pan, heat the oil over medium heat. Add the onions and cook for about 5 minutes, add the rest of the ingredients and cook for about 10 minutes, stirring occasionally. Set aside.
Place a pot over medium-high heat. Add the water, beef boullion, ground cumin, guiso and achiote. Stir to combine. Reduce the heat to low and simmer for 15 minutes.
While the broth is simmering, make the meatballs: In a medium bowl, combine all the meatball ingredients and using your hands, mix well until combined.
Divide meat mixture equally into 12 portions and roll into balls with your hands. Place in a plate and set aside.
Add the meatballs to the broth. Simmer for 20 minutes, add the rice and vegetables and cook for 20 minutes more. Stir in the fresh cilantro and top with avocado. Serve.
This was printed from MyColombianRecipes.com