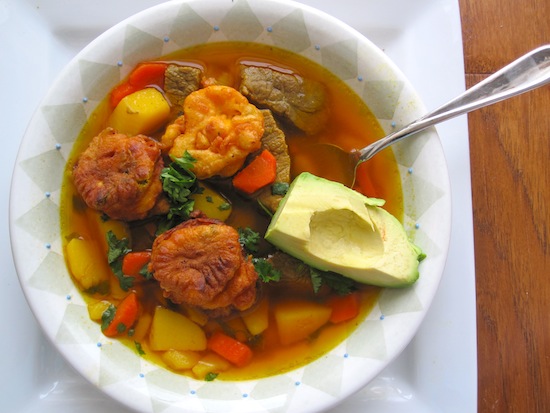 Sopa de Torrejas, also known Sopa de Masitas, is a traditional soup from the region of El Cauca in Colombia. This soup is made with beef, onion, garlic, cumin, achiote, potatoes, carrots, flour fritters and cilantro. It is served with avocado, rice and hot sauce or ají.
It is the kind of Sunday meal served with a side of plain white rice and avocado that I absolutely love. It's simple, comforting, satisfying and delicious.
Buen provecho!
Ingredients
(4-6 servings)
For the soup

11/2 pound beef, diced
8 cups beef stock or water
1/2 cup alinos sauce
1/2 teaspoon fresh thyme
1/2 teaspoon sazon goya with azafran or achiote
1 cup diced carrots
2 potatoes, diced
1/4 cup chopped fresh cilantro
Salt and pepper

For the fritters or torrejas

Vegetable oil for frying
2 eggs, beaten
1/2 cup all purpose flour
1 teaspoon whole milk
1/4 teaspoon ground cumin
Salt and pepper
1/4 teaspoon baking powder
1/2 teaspoon sazon goya with azafran
1/4 teaspoon paprika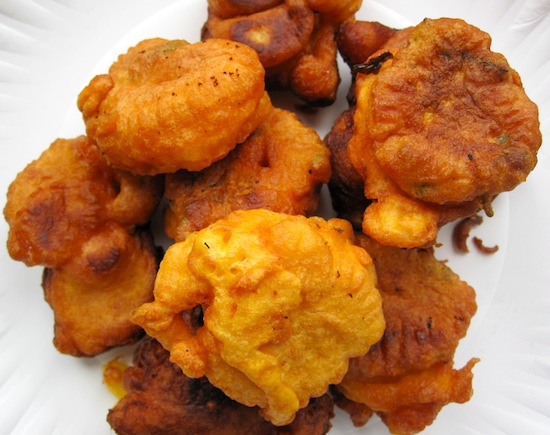 Directions
To make the soup:
Place a pot over medium-high heat. Add the beef, beef stock, carrots, aliños, thyme and sazon goya, bring to a boil. Reduce the heat to medium-low. Let it simmer for 40 minutes.
Add the potatoes, cilantro, salt and pepper, cover and cook for 25 minutes more or until the beef is cooked.
Meanwhile make the fritters: Heat oil to 325 degrees F.
In a medium bowl, combine flour, baking powder, cumin, paprika, salt, pepper and sazon goya. In a small bowl, combine milk and eggs. Add milk mixture to flour mixture, stirring well.
Pour oil to a depth of 2 inches in a skillet. Drop by tablespoons into hot oil. Cook 2 to 4 minutes, or until golden, turning once. Drain on paper towels. Set aside.
To serve: Ladle the soup in a bowl. Arrange the fritters in the center of the soup.Garnish with fresh cilantro.
This was printed from MyColombianRecipes.com