Sancocho Antioqueño is a flavorful soup from the Antioquia region in Colombia. This dish is made with vegetables, spices, herbs, beef and pork.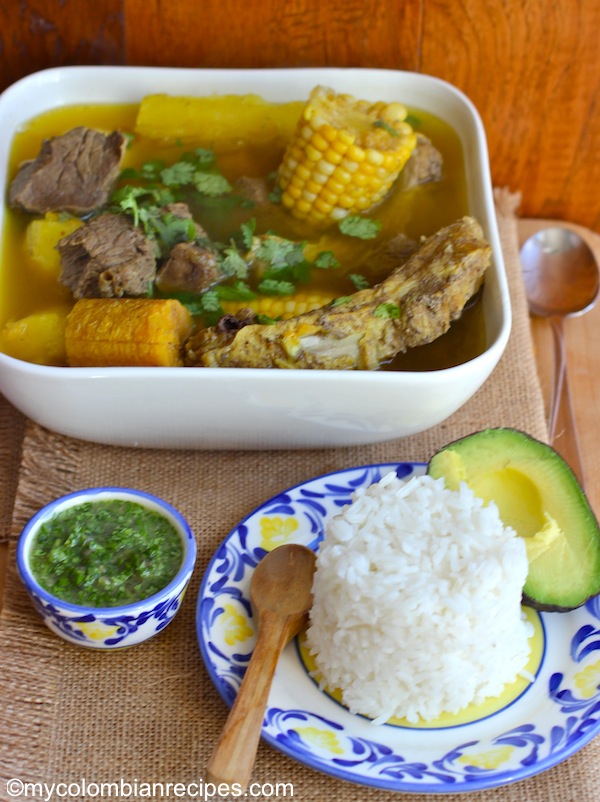 Sancocho always coincided with a celebration with friends, cousins, aunts and uncles getting together at Mamita's house. From the very first moment the pot was placed on the stove, the aroma of the herbs and spices would fill the house. This Colombian soup is the perfect comfort meal.
Sancocho is one of the staples of traditional Colombian cuisine and is a famous weekend soup. We have different variations of this soup in Colombia and Latin America, but the concept is the same. A thick, flavorful and hearty soup, almost a stew, made with root vegetables, corn, chicken, fish or meat, along with spices and herbs.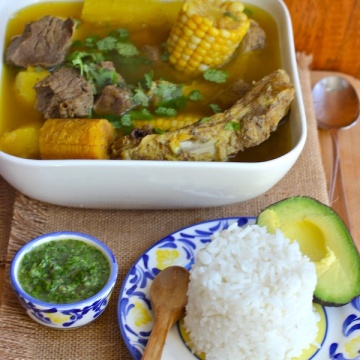 Sancocho Antioqueño Recipe
Ingredients
2

pounds

of beef

flank steak or beef for stew

1

pound

pork ribs

bones or meat

1

cup

of aliños sauce

see recipe here

4

ears fresh corn

cut into pieces

12

cups

of water

Salt and pepper

to taste

2

green plantains

peeled and cut crosswise into 2 inch pieces

6

medium white potatoes

peeled and cut in half

1

pound

yuca

cut into big pieces

½

cup

chopped fresh cilantro
Instructions
Place the beef and pork in a large pot, add about 12 cups of water, aliños sauce and salt. Bring to a boil, reduce to a simmer. Cover and let simmer for about 30 minutes. Add the corn and simmer for 30 minutes more.

Add the plantains, yuca and potato and cook for 30 minutes more. Add more water if necessary. Add chopped fresh cilantro and serve with avocado, white rice and ají on the side.
Nutrition
Calories:
1061
kcal
Carbohydrates:
141
g
Protein:
61
g
Fat:
29
g
Saturated Fat:
11
g
Polyunsaturated Fat:
4
g
Monounsaturated Fat:
11
g
Trans Fat:
0.2
g
Cholesterol:
73
mg
Sodium:
54576
mg
Potassium:
2740
mg
Fiber:
10
g
Sugar:
42
g
Vitamin A:
325
IU
Vitamin C:
80
mg
Calcium:
221
mg
Iron:
9
mg
This Sancocho Antioqueño o Paisa is the variation we make in the Antioquia department of Colombia, the region where I was born and raised. There are different recipes of this sancocho while most families have their own tried and true favorite. This is my grandmother's recipe and the way my mom and aunt's always make Sancocho Paisa.
My grandmother served sancocho with white rice, ají and avocado on the side. This dish was warm, comforting, cozy and tasted just as I remembered.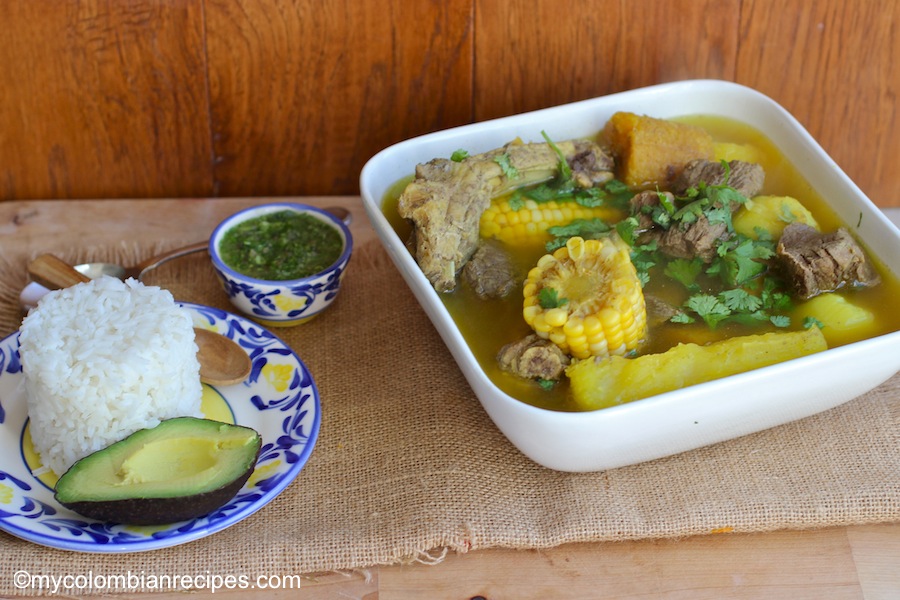 My family enjoys cooking and some of my fondest memories are of hanging out in the kitchen watching them create something for us to eat. I know I've said this before, but it's only because I believe it to be true, one of the finest gifts I received from my mom, my aunt's and grandmother were my family recipes. I started sharing recipes here on this blog as a way to connect with my country, my childhood and more importantly, publish the recipes in one place for my family. I can't wait for my kids and I to be able to cook these dishes in our kitchen together and create new moments that we'll cherish forever.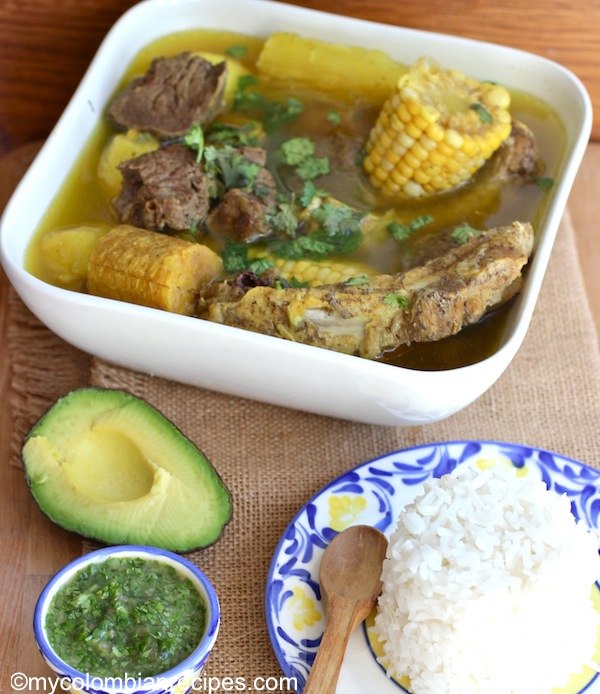 Here are more variations of Colombian sancochos:
Sancocho de Gallina o Valluno (Hen or Chicken Sancocho)
Sancocho de Cerdo (Pork Sancocho)
Sancocho de Pescado (Fish Sancocho)
Sancocho Trifásico (Three Meats Sancocho)
Sancocho de Cola (Oxtail Sancocho)
Sancocho de Albóndigas (Meatball Sancocho)
Sancocho Costeño (Atlantic Coast Sancocho)
Sancocho o Sopa de Guandú (Pigeon Peas Sancocho)
Sancocho de Pescado con Coco (Fish and Coconut Sancocho)
Buen provecho!