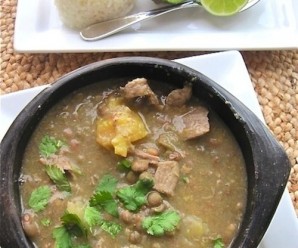 Sancocho o Sopa de Guandú (Pigeon Peas Colombian Soup)
Ingredients
1

pound

of frozen of fresh pigeon peas

12

cups

of water or more if necessary

½

pound

salted beef

1

pound

beef ribs

1

pound

pork meat or pork ribs

1

green plantain

peeled and cut into chunks

1

ripe plantain

peeled and cut into chunks

1

pound

of yuca or cassava

peeled and cut into chunks

½

teaspoon

ground cumin

½

teaspoon

ground achiote

2

tablespoons

oil

2 to

matoes

finely chopped

2

scallions

finely chopped

1

red bell pepper

finely chopped

2

garlic cloves

minced

2

ají dulce or sweet chiles

finely chopped

1

onion

finely chopped

Salt and pepper

½

cup

finely chopped fresh cilantro
Instructions
Make refrito: In a large pot place de oil tomatoes, scallions, bell pepper, garlic, sweet chiles, and onion over medium heat, stirring occasionally, until tender, about 4 minutes. Season refrito with salt and pepper.

Add salted beef, beef ribs, pork and water, and simmer uncovered for about 45 minutes.

Add the pigeon peas and keep cooking, uncovered, stirring occasionally, for about 30 minutes.

Add the green plantain, ripe plantain, cassava, cumin and achiote. Keep cooking, uncovered, stirring occasionally, for about 30 minutes more. Add fresh cilantro and serve warm with rice on the side.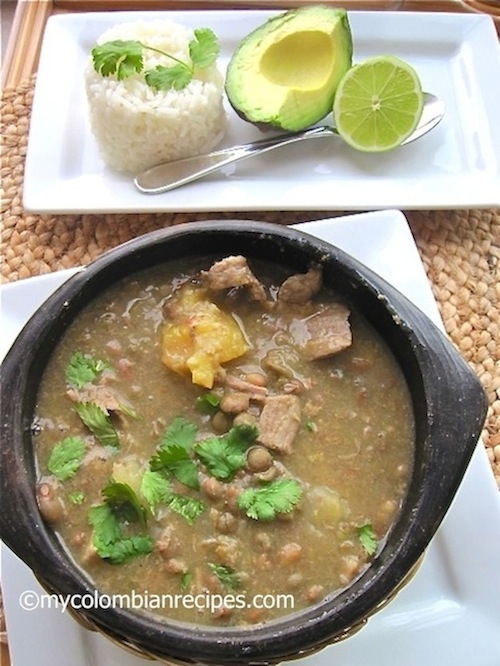 Sancocho o Sopa de Guandú is a traditional Colombian soup from the Atlantic Coast of the country. It is a thick, rich, hearty and comforting soup, and the contrast of flavors and textures is amazing.
Like other Colombian soups, Sancocho de Guandú is also considered a great cure for hangovers. If you are a regular reader, you may have noticed that there a large repertoire of soups in Colombian cuisine, probably because we eat them almost every day 😉
The main, and very important, ingredients to make this soup are guandú (pigeon peas) and salted beef. Every family on the Atlantic Coast has their own variation of this Sancocho, adding different vegetables and meats.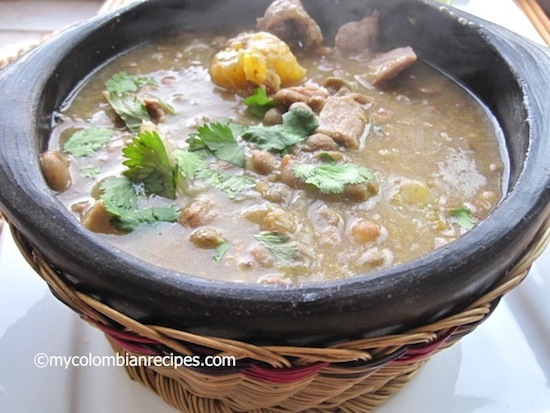 Sopa de Guandú is typically served with a side of white rice or coconut rice and bollo de yuca. I also like to serve it with avocado slices and ají, or hot sauce. The sweetness of the ripe plantain came through quite distinctively but the saltiness of the beef balanced it out, making this soup just perfect for a cold winter day.
Note: If you are using dried pigeon peas, soak them in water overnight, and if you are using salted beef, soak in water overnight and discard the water.
Buen provecho!