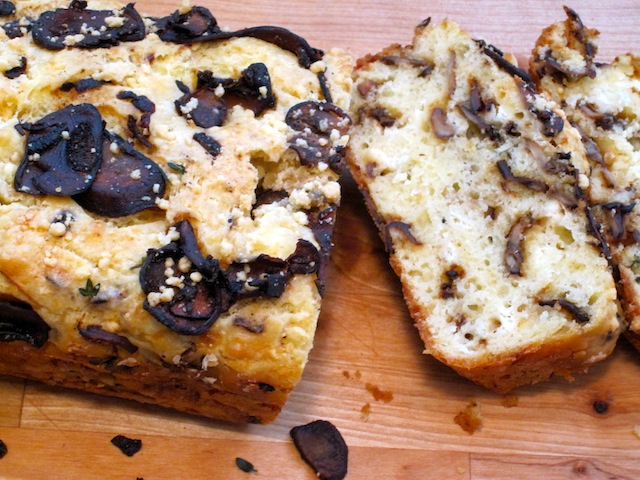 This mushroom cake is very easy to make, nothing fancy but the type of recipe you can make for lunch with a nice cup of soup. I bought
the mushrooms to make another recipe, but at the last minute, I realized that I didn't have all the ingredients for it. Don't you hate when that happens? But, that is how this mushroom cake was born and I loved it.
Ingredients
For the mushrooms
2 tablespoons olive oil
1/4 cuo chopped onion
8 oz portobello mushrooms, chopped
1/2 teaspoon fresh thyme
Salt and pepper
For the cake
1 cup all purpose flour
1/2 tablespoon baking powder
1/4 cup milk
4 oz soft cream cheese
1/4 cup ricotta cheese
1/4 cup cheddar cheese
1/4 cup olive oil
2 large eggs
1/4 cup parmesan cheese, plus more for garnish
Salt and pepper
Directions
Preheat the oven to 350F.
Place the olive oil in a skillet, over medium heat. Add the onions and cook for about 5 minutes or until translucent.
Add the mushrooms, thyme, salt and pepper. Cook for about 7 to 9 minutes. Set aside.
In a medium bowl place the flour and baking powder. Set a side.
In a another bowl place the milk, cream cheese, ricotta, cheddar, olive oil, eggs and parmesan cheese. Mix well until combined.
Add the flour mixture to the milk mixture and mix well, add the mushrooms reserving some for garnish.
Season with salt and pepper and stir until well combined. Pour the mixture onto a greased baking pan. Top with the reserved mushrooms and parmesan cheese. Bake for 45 minutes or until ready. Let it cool before removing.
This was printed from MyColombianRecipes.com