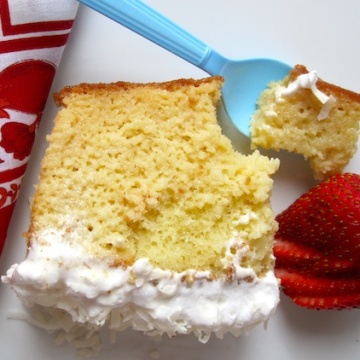 Coconut Three Milks Cake (Torta de Tres Leches con Coco)
Ingredients
2

cups

all purpose flour

2

teaspoons

baking powder

¼

teaspoon

baking soda

½

teaspoon

of salt

5

tablespoons

butter

1

cup

whole milk

¼

cup

coconut cream

4

large eggs

at room temperature

1 ½

cups

sugar

2

teaspoons

coconut extract

1

can coconut milk

1

can evaporated milk

1

can sweet condensed milk

2

teaspoons

coconut extract

2

egg whites

½

teaspoon

cream of tartar

½

cup

sugar

½

cup

water

1

teaspoon

coconut extract

1

cup

of shredded coconut
Instructions
Preheat the oven to 350° F.

Grease and lightly flour a baking dish.

To make the cake: In a bowl whisk together the flour, salt and baking powder.

In a small pot heat the milk and butter, remove from the heat and set aside.

In a large bowl beat the eggs with an electric mixer on high speed for 2 minutes. Add the sugar and continue mixing for 5 minutes. Reduce the speed to low. Add the flour mixture, butter mixture, coconut cream and coconut extract and mix for 1 more minute.

Pour the batter into the baking dish and bake for 40 to 45 minutes or until a toothpick stuck in the middle comes out clean. Remove cake from the oven and with a fork make holes all over the top of the cake. Set aside to cool for 10 to 15 minutes.

When the cake is cooling, make the milk sauce, whisk together sweetened condensed milk, evaporated milk, coconut milk and coconut extract in a mixing bowl.

Pour the 3 milks sauce over the cake until it is all absorbed. Refrigerate for a least 3 hours or overnight before frosting.

For the frosting, in a small pot mix the water and sugar, over medium high heat, stirring constantly for 5 minutes. Set aside.

Beat the egg whites with cream of tartar until stiff peaks are formed. While beating the egg whites, add sugar syrup and continue beating for 5 more minutes.

Add coconut extract and beat 1 more minute. Spread the frosting over the cake and refrigerate until ready to serve. Sprinkle the top with coconut and serve.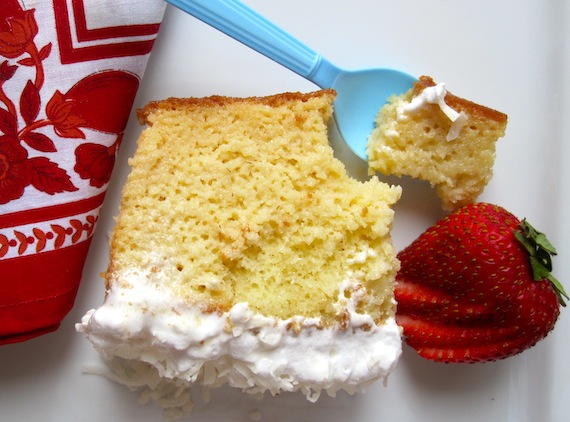 If you are a regular reader of my blog, it's probably become obvious to you that I am not a big baker, and there's a reason why. I absolutely hate measuring and following recipes! Beautiful cupcakes and colorful frostings and delicious homemade breads are the specialty of other bloggers.
Other than some posts about traditional Colombian baked goods and my simple cake creations, I am mostly about cooking savory meals. Today I want to share a Coconut Tres Leches Cake with you that I made a week ago that was absolutely delicious. This cake should be eaten cold, so if you are making it for a party, plan to have this in the refrigerator for about 3 hours before serving. If the cake is eaten warm, it will be too sweet!
Buen provecho!