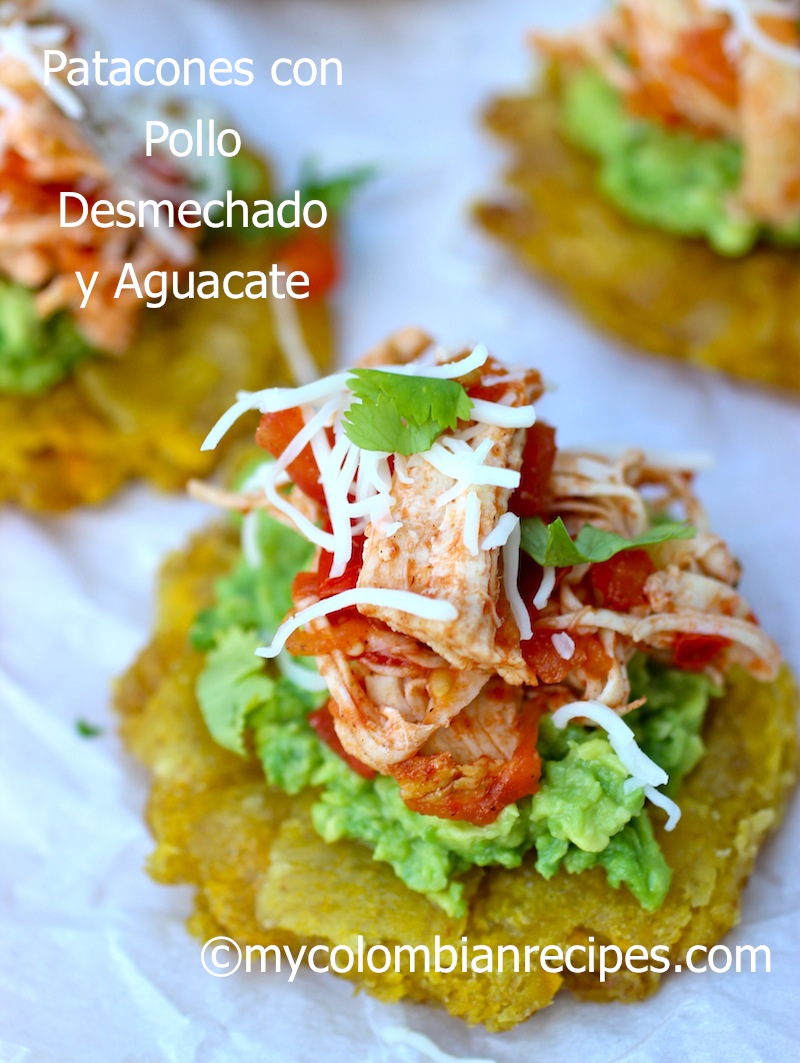 I have great news to share! I'm a new contributor for Parade Magazine!
I am so honored to be writing for this popular American online publication. I will let you know whenever I post a new recipe on Parade.com, so you can go and check them out. I would love to hear what you think.
Today, I am sharing one of my favorite Colombian appetizers or snacks, Patacones with Shredded Chicken and Avocado (Patacones con Pollo Desmechado y Aguacate). This is a very simple recipe and absolutely delicious.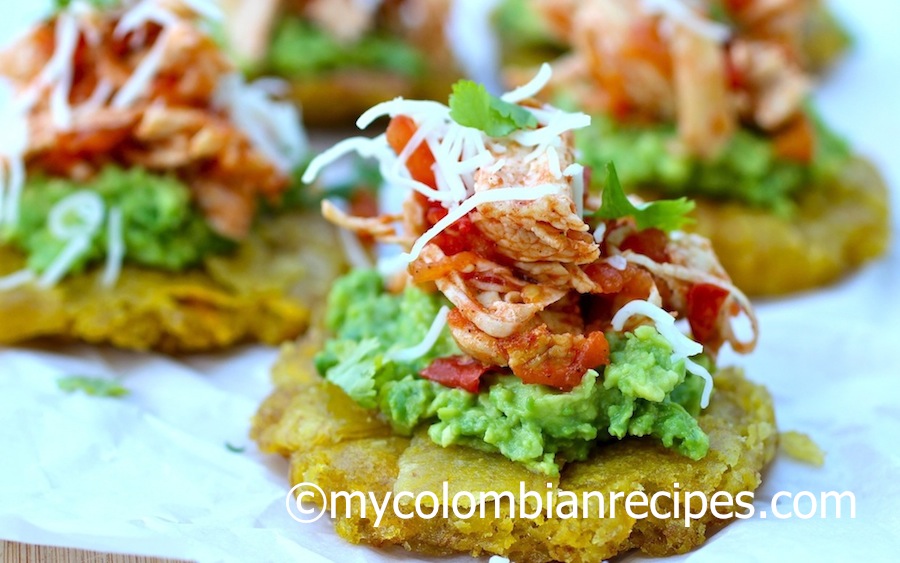 Buen provecho!
Ingredients
Shredded Chicken

2 chicken breasts, cooked
2 Tbsp vegetable oil
¼ cup chopped scallions
1 cup fresh tomatoes, chopped
1 clove garlic, minced
1 tsp ground cumin
¼ tsp salt
¼ tsp ground pepper

Patacones

3 large green plantains
1 cup vegetable oil for frying
½ tsp salt

Avocado spread and Garnish

2 avocados
1 Tbsp lime juice
¼ tsp salt
½ cup mozzarella cheese, shredded
2 Tbsp fresh cilantro, chopped
Directions
For the shredded chicken:Heat the oil in a saucepan, add the tomatoes, scallions, garlic, ground cumin and cook gently for about 7 minutes, stirring until softened.
educe the heat to low, add salt and pepper. Cook for 7 minutes more, stirring occasionally until the sauce has thickened. Check and adjust the seasoning.
sing your fingers or 2 forks, pull the chicken into shreds. Mix the shredded chicken with the tomato sauce and set aside.
For the patacones:Peel the plantains and cut cross-wise into ½" slices.In a medium heavy pot, add vegetable oil and heat the oil over medium high heat.
Add the plantain slices to the heated oil in a single layer. Fry for about 3 to 4 minutes per side. Carefully remove the plantains with a slotted spoon, and place them on a plate lined with paper towels to absorb excess oil.
Let the patacones cool for 3 minutes. Then, place the plantains on a piece of plastic wrap and cover with another piece of plastic wrap. With a flat pot cover, press well on the pieces of plantain, flattening them to ¼" thickness.
hen, using tongs, add them back in the hot oil in a single layer (you may need to work in batches) and fry for an additional 3 minutes on each side.
emove the patacones with slotted spoon and transfer them to a plate lined with paper towels to absorb oil. Sprinkle with salt, to taste, and transfer to a serving plate.
For the avocado spread, and the assembly:To make the avocado spread, mash the ripe avocados with the lime juice and salt.Spread the avocado mixture on the patacones.
dd the shredded chicken and top with the cheese and cilantro. Serve and enjoy.
This was printed from MyColombianRecipes.com