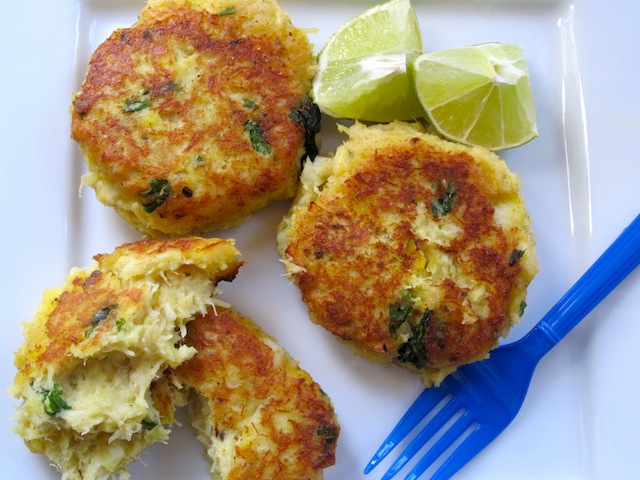 There are a lot of recipes for cod fish cakes, some better than others. I have tried a few made with potatoes that I like, but my grandmother used to make cod fish cakes with yuca, and they are definately my favorites ones. They have great texture and a wonderful taste.
This is the recipe for my grandmother's Cod Fish and Yuca Cakes. Enjoy!
Ingredients
(6-8 Cakes)
1 pound cod fillets, cooked and flaked
1 cup cooked and mashed yuca (cassava)
1/4 cup bread crumbs
1 tablespoon butter
1 scallion, finely chopped
1 garlic clove, finely chopped
1 tablespoon cilantro, chopped
1/4 cup heavy cream
2 eggs, beaten
1/2 teaspoon mustard
1/4 teasppon ground cumin
Red pepper flakes to taste
salt and pepper
Oil for frying
Directions
In a small skillet over low heat, melt the butter. Add the green onions and garlic. Cook for 2 minutes.
In a medium bowl, place the flaked fish, mashed yuca, cooked onions and garlic, bread crumbs, cilantro,mustard, cumin, red pepper flakes, salt and pepper and mix well.
In a separated bowl, whisk together the cream and eggs until well blended. Add to the fish mixture and mix well.
Form the mixture into round cakes. In a large saute pan over medium-high heat fry the cakes in the oil, turning once, until lightly browned, about 3 minutes per side. Serve with lime wedges on the side.
This was printed from MyColombianRecipes.com