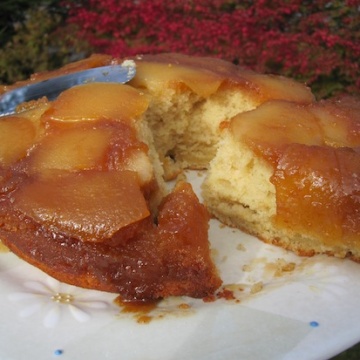 Pear Upside Down Cake
Ingredients
9

tablespoons

unsalted butter

¾

cup

sugar

1

teaspoon

vanilla extract

2

large eggs

at room temperature

1 ½

cups

flour

1 ½

teaspoon

baking powder

Pinch

salt

½

cup

whole milk

at room temperature
Pear topping:
¾

cup

brown sugar

3

tbsp


 butter

2

pears, peeled and sliced
Instructions
Position a rack in the middle of an oven and preheat to 350°F. Lightly butter the sides of a cake pan.

To make the topping: Heat a small saucepan over medium-high heat. Add the butter and sugar, cook stirring occasionally, until it is browned, about 5 minutes.

Pour the butter-sugar mixture into the cake pan. Using a rubber spatula, spread the mixture out so it to covers the bottom of the pan.

Arrange pear slices evenly. Press the slices into the butter-sugar mixture.

To make the cake: Using a sieve over a large bowl, sift together the flour, baking powder and salt. Set aside.

In a large bowl with a hand-held electric mixer, combine the butter and sugar and mix at a low speed until just incorporated. Raise the speed to high and mix until light and fluffy, about 10 minutes.

(Occasionally turn the mixer off, and scrape the sides of the bowl down with a rubber spatula.)

Add the eggs one at time, waiting for each one to be fully incorporated before adding the next.

Reduce the speed of the mixer to low. Add the flour mixture, vanilla and milk. Raise the speed to medium and mix briefly until a smooth batter is formed.

Pour the batter over the pear layer, distributing evenly. Bake the cake, rotating the pan once during cooking, until golden brown and a toothpick inserted in the center of the cakes comes out clean, about 45 minutes to 1 hour. Remove the cake from the oven and let cool for 5 minutes.

Run a knife around the edge of the pan to release the cake. Carefully invert the cake onto a serving plate.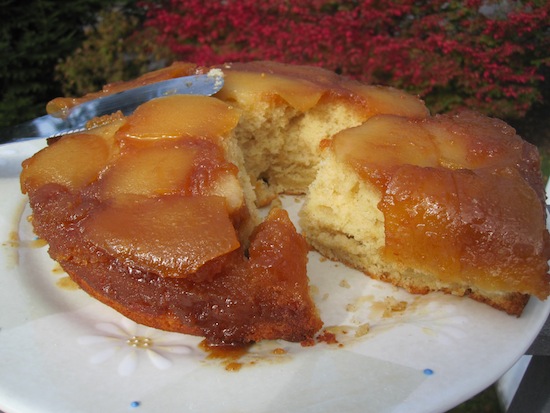 Baking has never been my strength, maybe it's because I have a very hard time following directions when I am cooking. When it comes to pastries, where following a recipe is the key to a good dish, I leave that job to the experts, but I do alright with cakes like this one 🙂
I had some pears sitting on my counter for a couple days and I didn't know what to make with them. I wanted something simple and easy, so a pear upside down cake came to mind and I absolutely loved it. I have to confess, I liked the banana upside down cake that I made before better than this pear one, but this is a delicious variation too.
Buen provecho!