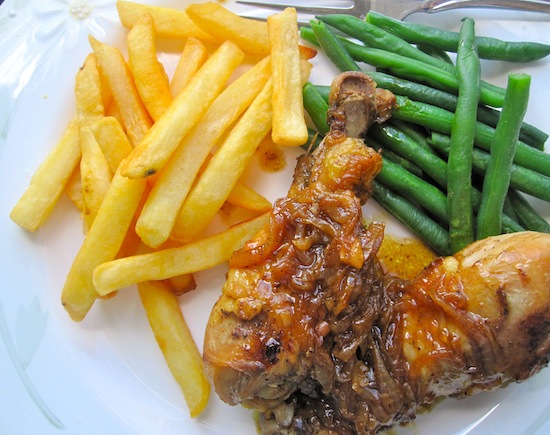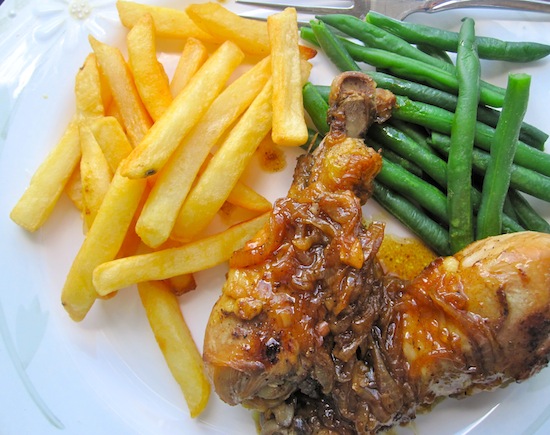 It's popular in Colombia to cook meat or poultry in Onion or Tomato Sauce. My mom made this dish all the time with a variety of different meats and we all loved it! It is the perfect weeknight meal, because it is cheap, easy, simple, fast and full of flavor. Serve it over white rice, pasta or just potatoes and vegetables on the side. This dish in particular can be made with beef or pork as well.
I am not usually such an onion-lover, but this onion sauce is absolutely fantastic. So good that the next time I make this, I'm going to double the batch of sauce, and I think you should too! If you have any leftovers, make an onion quesadilla, mix them into mashed potatoes, put them on top of crostini or just eat them with a spoon at the stove. The onions are sweet, tender and wonderful!
Buen provecho!
Don't forget to comment on my post "Healthy Foods for Finicky Little Eaters" and enter to win a $100 Visa gift card from Tropicana and BlogHer.
Ingredients
(4 servings)
2 tablespoon olive oil
2 tablespoons butter
8 chicken legs, bone in and skin on
Salt and ground pepper, to taste
2 onions, thinly sliced
3 garlic cloves, crushed
1/4 teaspoon ground cumin
2 fresh thyme sprigs
1⁄2 cup red wine (optional)
1 cup chicken stock
2 tablespoons Worcestershire sauce
Directions
n a deep sauté pan over medium heat, warm the olive oil and butter.
eason the chicken with salt and pepper. Add the chicken to the pan and brown on all sides, about 7 minutes. Transfer to a platter.

dd the onion to the pan and cook until tender and translucent, about 4 minutes. Add the chicken, garlic, thyme, wine, stock, cumin and Worcestershire and bring to a boil.

educe the heat to low, cover and simmer until the juices run clear when the chicken is pierced with a knife, about 30 minutes. Serve immediately.
This was printed from MyColombianRecipes.com