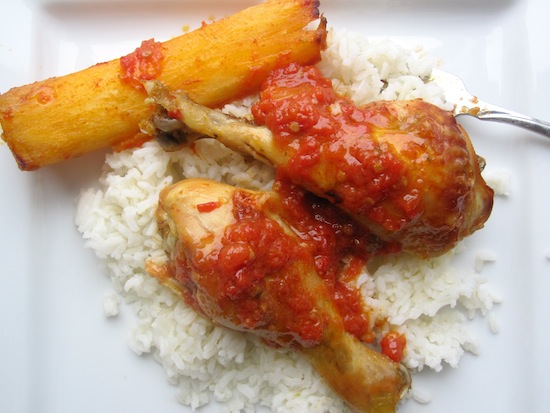 Pollo Gritador literally translates to Screamer Chicken and is a traditional Colombian dish from the Huila region of the country. This dish is first marinaded with garlic and cumin and after cooked in a delicious tomato sauce and aguardiente, which is a strong traditional Colombian alcoholic drink made from anise and sugar cane. The marinating time and then the sauce ensure an incredibly juicy and full of flavor bird.
Enjoy it!
Ingredients
(4 servings)
2 tablespoons vegetable oil
1 tablespoon olive oil
8 chicken pieces
1/2 cup chopped onion
2 scallions, finely chopped
4 garlic cloves, minced
4 large tomatoes, diced
1/2 cup red pepper, diced
1/2 teaspoon ground cumin
Salt and pepper
1/4 cup chopped cilantro
1 shot of aguardiente
Directions
Marinate chicken: Place the chicken in a  large bowl. Stir in 1 tablespoon olive oil, 2 garlic cloves, salt, pepper and cumin. Toss chicken within marinade until coated. Cover, put in the fridge and marinate for at least 1 hour.
n a large saucepan over medium-high heat, warm the vegetable oil. Working in batches, brown the chicken on all sides, 3 to 4 minutes total. Remove the chicken from the pan and set aside.
educe the heat to medium-low and add the remaining garlic cloves, onions, tomatoes, red pepper, scallions to the pan and cook, stirring occasionally. Return the chicken to the pan. Cover and simmer until the chicken is very tender, about 45 minutes.
dd the aguardiente shot and cook for 10 minutes more.
This was printed from MyColombianRecipes.com