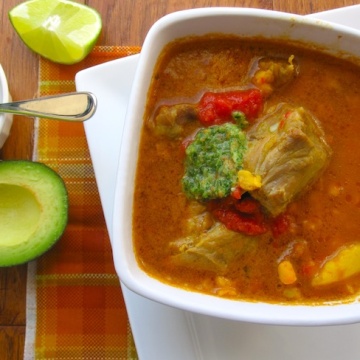 Sango o Cus-Cus (Pork, Potatoes and Hominy soup)
Ingredients
2

pounds

pork ribs or espinazo

pork bones

8

cups

beef broth

1

cup

soaked dried hominy corn or maíz trillado

2

yellow medium potatoes

peeled and diced

1

cup

of aliños sauce

2

teaspoons

ground cumin

½

teaspoon

ground achiote

1

cup

of hogao or Colombian creole sauce

plus more for serving

Salt and pepper

Fresh cilantro
Instructions
Place the pork bones and hominy in a large pot, add the alinos and the beef broth.

Bring to a boil, reduce heat and simmer for 1 hour and 15 minutes.

Add the potatoes, ground cumin, achiote, hogao, salt, and pepper. Cover and cook for 40 minutes more or until the pork is cooked.

Garnish with chopped fresh cilantro and hogao. Serve with white rice, avocado and aji on the side.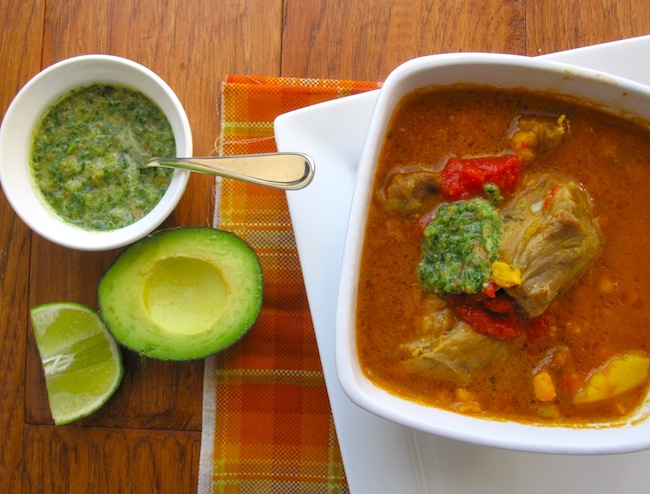 Readers sometimes ask me why I post recipes from other countries and not just Colombian recipes. When I started this blog I wanted to target English speaking readers who weren't familiar with Colombian food, as well as those who already enjoy Colombian cuisine and want to learn how to cook it for themselves. I also wanted to bring dishes from other countries to my Colombian readers, so that they might experience various International flavors and cuisines. After more that three years of blogging, almost 14,000 comments, and many amazing e-mails from you guys, I can say that sharing more that just Colombian Recipes seemed to be a good choice!
Writing about more than just Colombian recipes has helped me to learn enormously about food from other countries, while writing about Colombian recipes has resulted in so much more knowledge and experience with Colombian cuisine and ingredients. I look at each dish with different eyes than I did before I began blogging.
I grew up eating traditional homemade Colombian food, but probably like so many of you, only knew how to cook the popular Colombian dishes that my family made. It was only after I left home and came to the United States twelve years ago, that I came to further appreciate my food, my country and my culture. Here is another traditional Colombian soup from El Valle in Colombia. Buen provecho!